Celebrate National Seafood Month This October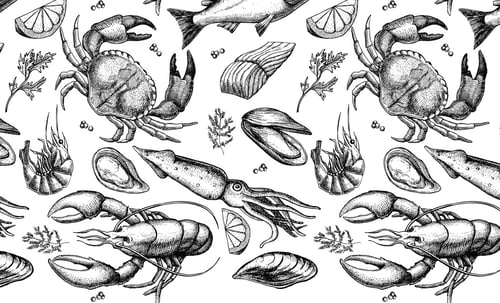 Every day means seafood at The Town Dock, but October is by far our favorite month because it's National Seafood Month! It's a month-long celebration we share with other fishermen and seafood manufacturers, as well as restaurant operators and the millions of people across the country who just can't get enough of the ocean's delicious, nutritious bounty.
Whether we're experimenting with new recipes, sourcing the world's finest calamari, or discussing the importance of sustainability with our customers, seafood is our passion. We love talking about seafood, and October is our chance to unabashedly and we love talking about it.
The Town Dock proudly fishes our calamari and other seafood products from the oceans in a sustainable way, and we strive to provide only the best quality seafood to our customers.
Seafood & Restaurant Operators
Seafood is a healthy alternative protein to beef, pork, or poultry that's easy to prepare and serve. Most notably, seafood is low in saturated fat, packed with omega 3 fatty acids, and full of irons and vitamins A, B, and D. Calamari has vitamins and minerals that can keep your body healthy and immune system strong. For patrons looking for a light, delicious, and good-for-you meal, seafood—including fish and calamari—provides many options.
Aside from the nutritional benefits, National Seafood Month gives restaurant operators the opportunity to promote sustainable seafood. More than two-thirds of U.S. consumers want to know their seafood can be traced back to a known and trusted source. As a restaurant operator, offering and promoting sustainably-caught seafood satisfies this demand and shows that you're concerned with the health and well-being of your patrons and of the Earth's resources.
Buy and Promote Sustainable Seafood
If you want to make sure you're offering your customers sustainably caught seafood, look for blue ecolabel from the Marine Stewardship Council (MSC). It's only applied to wild fish and seafood that has been deemed sustainable by the MSC from fisheries—like The Town Dock—that have met MSC standards for harvesting seafood.
Earlier this year, The Town Dock received Marine Stewardship Council (MSC) certification for our U.S. Northeastern Longfin Squid, also referred to as Loligo pealeii.
How to Celebrate
As a restaurant operator, you can promote nightly or weekly seafood specials, including any sustainably caught seafood items that you offer. Again, more and more consumers want to know where and how their seafood is sourced. National Seafood Month is a great chance to share a message of health and sustainability with patrons while getting them hooked on new and innovative menu items that will keep them coming back for more throughout the year. Grocers and seafood retailers can also take part in the National Seafood Month celebration by highlighting which seafood products come from sustainable fisheries or offer special deals on popular seafood products that are great for healthy meals.
If you have questions about how The Town Dock can help your operation get the most out of National Seafood Month, contact us! We'd be more than happy to help your business grow.