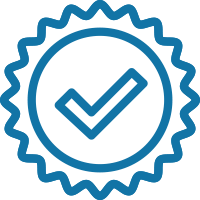 We harvest our seafood with best practices to minimize impact to the environment. We not only abide by the quotas and guidelines put forth by regulatory bodies, but we have gone ever farther to spearhead the certification by the Marine Stewardship Council (MSC). We are proud to offer the only two species of squid, North Atlantic Loligo and North Atlantic Illex, which are certified sustainable by this rigorous process.
We remain committed to the fishing industry and the surrounding community. We only work with partner fishermen with whom we have built relationships and who abide by our strict catch method qualifications. Our domestic seafood is unloaded at our docks, from our dedicated fleet and these local partners and community members.
We have dedicated processing staff around the world. Team members in Rhode Island oversee our Narragansett and Johnston facilities; team members who are based out of our Narragansett main office but constantly travel abroad to inspect and support our overseas partners; and full time team members in Asia to oversee processing and uphold our commitment to quality. Additionally, all of our overseas product is directly imported. This hands-on approach to our imported products is how we are able to maintain our high standards around the world.
We strive for honesty and accountability in all we do. This means long lasting partnerships with the distributors, foodservice operators, customers, and end users who have come to recognize that The Town Dock sets the standard for quality calamari.