Recipe: Easy 5-Step Garlic Sauteed Calamari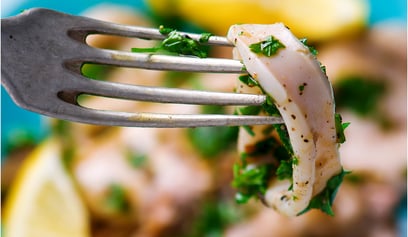 Over the years, this recipe seems to always be one of our most popular. We think it hits the perfect combination of three essentials: simple, delicious, and customizable to your exact tastes and preferences.
Because it's a simple recipe for a protein, it's great to take and run with. For example, replace chicken strips on salads or shrimp in a scampi with garlic calamari. Use some of your favorites sauces or marinades for tacos, lettuce wraps, or in spring rolls. Just adjust the seasonings, and you're good to go!
Ingredients
1 pound Town Dock calamari tubes
2 teaspoons chopped garlic
½ teaspoon crushed red pepper flakes
Blended olive oil
½ lemon
1 teaspoon chopped parsley
Kosher salt
Fresh cracked black pepper
Preparation
Cut squid into ½-inch to 1-inch wide rings.
Adding oil to an already hot pan (fire set to medium high) will prevent sticking. Oil should almost be on the verge of smoking before adding the garlic, parsley and red chili flakes.
Add garlic, half of the parsley, and red chili flakes to the hot oil and sauté for only 10 seconds, or so, to bring out the flavors and oils. You don't want the garlic to overcook, turn brown and become bitter.
Add cleaned and dried squid to the sautéd garlic, parsley and chili flakes. Only add enough to barely cover the bottom of the pan, to ensure you have enough space and heat to cook the squid correctly. Add a pinch of salt and some cracked pepper. Keep the squid moving in the pan to prevent it from burning. Sautéed calamari is done when it just turns firm and opaque in color, should only take about 1-2 minutes.
Add remaining parsley, a big squeeze of lemon, stir them through, plate the garlic sautéed calamari and ENJOY!
Cook′s Note
Recipe courtesy of Quality Seafood.