Melissa Chace: Seafood Industry Future Leader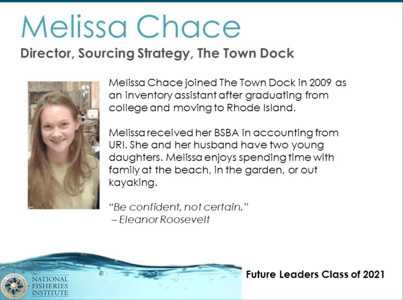 We're proud to announce that our own Melissa Chace, Director, Sourcing Strategy, has been named in National Fisheries Institutes (NFI) Future Leader program - Class of 2021. This program is a hands-on program for talented industry professionals who are rising within their companies and the industry as a whole. It provides in-depth exposure to a wide variety of issues and opportunities to network with industry peers, and has more than 500 alumni since its inception in 1998.
Of course, while we work through the tail end of COVID, this year's program will kick off with virtual opportunities. The hope is that it will be safe and practical for in-person experiences closer to the end of the year.
Melissa joined The Town Dock in 2009 as an inventory assistant. Over the past decade plus, she's demonstrated her talent at managing complex inventory and sourcing needs and working with local and multinational vendors to support our supply chain. The coronavirus related closures and disruptions have presented extra challenges throughout 2020 and into 2021, and we're fortunate to have gotten through as well as we did, due in part to Melissa's abilities and dedication.
Click here to see the full slide deck of NFI's Future Leaders.
-------
About NFI
The National Fisheries Institute is a non-profit organization dedicated to education about seafood safety, sustainability, and nutrition. From vessels at sea to your favorite seafood restaurant, our diverse member companies bring delicious fish and shellfish to American families. NFI promotes the US Dietary Guidelines that suggest Americans include fish and shellfish in their diets twice per week for longer, healthier lives.
NFI and its members are committed to sustainable management of our oceans and being stewards of our environment by endorsing the United Nations Principles for Responsible Fisheries. Our investment in our oceans today will provide our children and future generations the health benefits of a plentiful supply of fish and seafood tomorrow.
From responsible aquaculture, to a marketplace supporting free trade, to ensuring the media and consumers have the facts about the health benefits of fish and shellfish, NFI and its members support and promote sound public policy based on ground truth science.
Learn more at www.aboutseafood.com