First Squid Fishery In The World Certified As Sustainable
Fishery Attains MSC Certification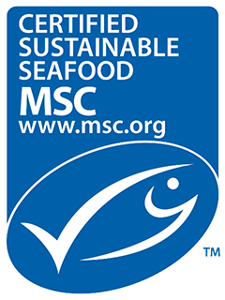 WASHINGTON, D.C. – The U.S. Northeastern Longfin Inshore Squid fishery in the Northwest Atlantic is the first squid fishery in the world to achieve MSC certification as a sustainable and well-managed fishery. The certification was awarded on May 22 by independent certifier SCS Global Services following an 11-month long detailed assessment.
The Longfin inshore squid (Doryteuthis (Amerigo) pealeii), also referred to as Loligo squid, has a lifespan of less than one year. They spawn year-round as they migrate long-distances between inshore and offshore waters. They generally remain inshore during spring and offshore during late fall. As with most squid species, environmental factors such as temperature play a significant role in the timing of migrations, distribution, growth, and spawning. Due to changing water temperatures, squid have been migrating further North up the coast than in past years. It is one species that may benefit from climate change, rather than be negatively impacted by it, according to studies[i].
"We are thrilled to congratulate the fishery for becoming the first squid fishery in the world to attain MSC certification," said Brian Perkins, MSC's Regional Director for the Americas. "This achievement is an acknowledgement and testimony to the great work that the fishers are doing to ensure that they fish responsibly, and will have the resource available for generations to come."
The fishery takes place on the U.S. continental shelf from the Gulf of Maine to Cape Hatteras, North Carolina. Squid are harvested by small mesh bottom trawls by fishery client group Lund's Fisheries Inc. of Cape May, New Jersey, and The Town Dock of Narragansett, Rhode Island along with independent fishermen throughout the region using the same fishing method. The bottom trawl fishery for longfin squid follows the species' seasonal inshore/offshore migration patterns.
"We are excited to build additional trust with our customers through MSC's certification of our longfin squid fishery," said Wayne Reichle, President of Lund's Fisheries. "This certification demonstrates that our domestic fisheries management system is working to sustainably manage our major squid fishery to the benefit of the resource, fishing communities, and calamari lovers everywhere."
"All of us at The Town Dock are excited to be part of such a historic initiative," said Ryan Clark, CEO of The Town Dock. "Our goal has always been to provide customers with a healthy and sustainable product. By certifying longfin squid, we hope to take the promise of sustainability a step further by protecting the fishery to ensure consumers have access to squid now and for many years to come."
The two companies are also immediately pursuing a scope extension via an expedited assessment of the Northern shortfin squid small mesh bottom trawl fishery under MSC principles. Northern shortfin squid (Illex illecebrosus), also known as illex, is a commercially important species with a broad range that extends between the Sea of Labrador and the Florida Straits.
Development of the U.S. domestic longfin squid bottom trawl fishery began in the early 1980s as the U.S. industry developed the appropriate technology to catch and process squid in large quantities, and became solely domestic in 1987.
The fishery is certified until 2023 and will undergo annual audits within that timeframe to ensure the MSC standard continues to be met.
About Lund's Fisheries Inc.
Lund's Fisheries, Inc. is a family-owned company and primary producer of fresh and frozen seafood located in Cape May, N.J. Lund's is the only company that harvests all three species of U.S. squid on the East and West Coasts: Atlantic longfin squid, Atlantic shortfin squid, and Pacific market squid (Doryteuthis opalescens). Lund's purchases, produces and distributes nearly 75 million pounds of fresh and frozen fish annually. Its fresh and frozen domestic sales stretch nationwide while its frozen exports extend to markets around the world. Lund's has about 30 fishing vessels delivering a variety of seafood to its facility year round. Lund's is committed to developing and managing systems and practices to track seafood back to the harvest location to ensure it is sourced from fisheries that are well-managed, certified sustainable or actively working towards implementing more responsible and sustainable harvesting practices.
About The Town Dock
Located on the water in Point Judith, Rhode Island, Town Dock is a vertically integrated seafood company specializing in supplying its customers with the world's finest calamari. With a waterfront location, exceptional global partnerships, and a dedicated fleet of fishing vessels, The Town Dock is the largest purchaser of US domestic East Coast squid. From food service distributors to national restaurant and retail chains, Town Dock calamari is found across the country and the world.
About SCS Global Services
SCS Global Services is a global leader in third-party quality, environmental and sustainability verification, certification, auditing, testing, and standards development. Its programs span a cross-section of industries, recognizing achievements in green building, product manufacturing, food and agriculture, forestry, power generation, retail, and more. SCS was the first independent certification body accredited to conduct assessments under the Marine Stewardship Council (MSC) standard, and now certifies fisheries around the world under the MSC and Aquaculture Stewardship Council (ASC) standards. SCS is a chartered benefit corporation, reflecting its commitment to socially and environmentally responsible business practices.
About the Marine Stewardship Council
The Marine Stewardship Council (MSC) is an international non-profit organization. Our vision is for the world's oceans to be teeming with life, and seafood supplies safeguarded for this and future generations. Our ecolabel and certification program recognises and rewards sustainable fishing practices and is helping create a more sustainable seafood market.
The MSC ecolabel on a seafood product means that:
It comes from a wild-catch fishery which has been independently certified to the MSC's science-based standard for environmentally sustainable fishing.
It's fully traceable to a sustainable source.
More than 300 fisheries in over 34 countries are certified to the MSC's Standard. These fisheries have a combined annual seafood production of almost nine million metric tons, representing 12% of global marine catch. More than 25,000 seafood products worldwide carry the MSC label. For more information visit www.msc.org
The MSC program could not exist without the many fishers around the world who work to safeguard stocks, ecosystems and their own livelihoods. Read stories about fishers working hard to safeguard our oceans.
###