No Wings? Think Buffalo Calamari Rings!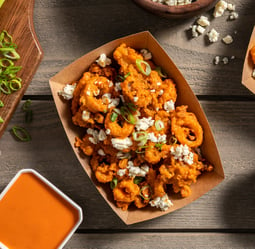 Every year on Super Bowl Sunday, people in the United States eat an estimates 1.4 billion chicken wings. What is it about wings that makes them such a perfect snack during a football game? They're easy to make, really delicious, and let's be honest: the sauce, it's the sauce.
Rather than having anything to do with the animal, Buffalo sauce had its origins in Buffalo, New York. Similar to many cayenne-pepper based hot sauces, Buffalo sauce also adds butter to the mix to give it that delicious spicy-savory flavor. That combination of flavors has made Buffalo wings a popular recipe all year 'round, but especially during football games.
So why is calamari the perfect snack for football games? Like wings, calamari is a wildly popular appetizer - who doesn't love calamari? Also, calamari brings heart-healthy omega-3 fatty acids to the table. With reports of chicken wing shortages during big football games, you can reliably find calamari at a grocery store near you. And finally, it's also easy to make (even at home), really delicious, and yes - the sauce!
Toss calamari in a simple seasoned flour and fry, and just like wings, you'll add calamari to a large bowl and toss in the sauce. (If you're not totally sure how to fry calamari at home, check out the video for our Rhode Island Style Calamari - it's the same technique, you'll just used wing sauce instead of hot peppers and garlic at the end). Garnish with scallions and, if you like, blue cheese crumbles, serve with sides of ranch dressing and blue cheese dressing, and you've got the perfect appetizer.
To get you started, here's out football-ready recipe for Buffalo Calamari rings. But don't limit yourself! Much like chicken, calamari has a flavor that acts as a perfect sauce delivery system. What's your favorite BBQ sauce? Do you love wings with chipotle peppers, hot honey, sweet-and-spicy mustard? Try it with calamari!
Buffalo Calamari Recipe
This recipe uses one pound of calamari, which is approximately two appetizer-sized servings. If you're feeding a crowd, use more, but cook it in batches so the rings all have enough room in the pan. Love tentacles? Use them! Can only find Calamari Tubes? No problem - slice them across and make rings.
Ingredients:
• 1 pound The Town Dock Calamari Rings
• 3/4 cup of flour
• 1 teaspoon garlic powder
• Black pepper to taste
• Corn oil
• 3.4 cup wing sauce
• 1/2 cup blue cheese crumbles (optional)
• 1/4 cup sliced scallions
• 2 oz. blue cheese dressing and/or ranch dressing
Preparation:
1. Coat pan with about 1/4 inch of corn oil. Begin heating in a heavy skillet on medium-high heat.
2. Mix flour, garlic powder and pepper in a plastic bag. Add calamari rings into the bag and shake evenly coating the calamari. Shake off excess flour.
3. Add 1/2 pound calamari to skillet when oil is very hot. Cook until crisp and brown (approx. 1 . minutes). Remove from oil and drain on paper towels, add the rest of calamari to oil and repeat.
4. Add approximately 3/4 cup of wing sauce into a stainless bowl, add calamari, and toss to coat evenly.
5. Pour calamari into serving bowl, top with blue cheese crumbles and sliced scallions. Serve with a side of blue cheese dressing or ranch dressing. Enjoy!