Download our Free 2023 Cookbook!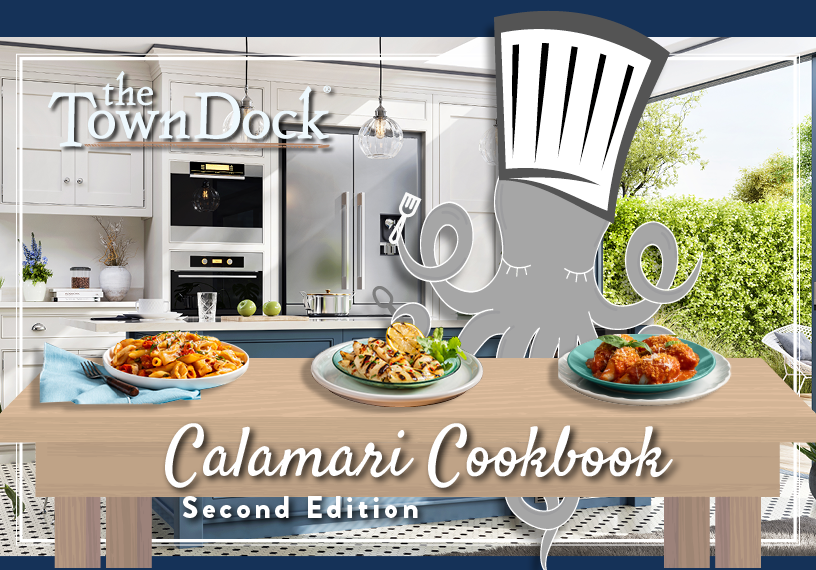 Our second edition, 2023 Calamari Cookbook is offered for digital download, easy to pop up on your tablet screen while you cook, or is also formatted to print on most printers. With more than two dozen recipes for calamari rings, calamari tubes, and calamari steaks, an dishes inspired by cuisine from Italy, Mexico, Japan, the United States, and beyond - what's not to love?
What we love about this cookbook? It shows how versatile calamari is! It can be fried and breaded, but it can also be grilled, sautéd, pan roasted, and even put in the air fryer. With a mild flavor, it pairs easily with a wide variety of flavor profiles, tastes, and preferences.
Calamari itself offers a host of health benefits: it's an excellent source of protein and low in fat, plus contains heart-healthy omega-3 fatty acids, and other essential nutrients like zinc, multiple B vitamins, selenium, and copper.
Prepared appropriately, calamari can fit into a wide variety of diets and eating styles, including keto diets, whole 30, paleo diets, Mediterranean diets, and pescatarian diets.
And to top it off: calamari isn't just good for you, it's good for our oceans, too! Our Shortfin and Longfin calamari are both Marine Stewardship Council certified sustainable seafoods and Monterey Bay Seafood Watch Certified Recommended. Our Calamari Steaks are cut from Peruvian Jumbo Squid, which is a Seafood Watch Good Alternative. Wild squid populations are carefully managed and thoughtfully caught, meaning you can feel good about enjoying your new favorite seafood knowing it will be around for years to come.
Ready to get started? Click the button below to head over and download!
Pssst.... not sure where to buy The Town Dock Calamari near you? Click here to map it out!