While turkey and ham are favorites during the holiday seasons, many people look for something more unique. Serving calamari during the holidays might seem nontraditional, but in some parts of the world, it is just the opposite - for example, calamari is one of the seafoods served in the Italian Feast of Seven Fishes.
Whether it is inspired by Italian, Spanish, Mexican, Japanese, or American cuisine, calamari is the perfect way to build or start a tradition and share a meal with family, friends, or friends who are family. We have gathered some of our favorite calamari recipes to help you create a unique menu for your holiday meal.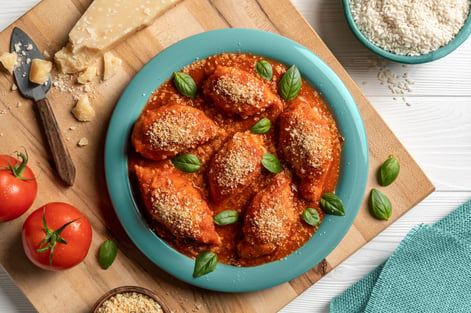 Italian: Arancini Stuffed Calamari
Arancini Style Stuffed Calamari Tubes are inspired by the classic Italian rice balls. Riced rolled around a mozzarella pearl and deep fried, they are truly a delicious. Our recipe stuffs calamari tubes with risotto and mozzarella, and then cooks in red sauce for an equally delicious starter or main dish.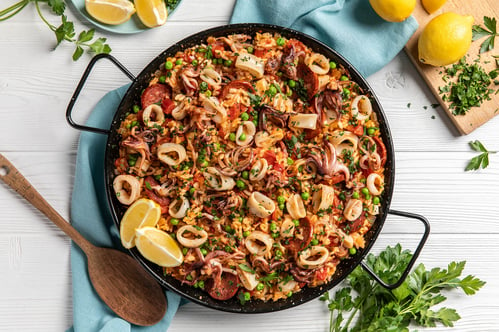 Spanish: Calamari Paella
Paella is a classic Spanish rice dish that originated in the city of Valencia, Spain. Our paella is made with calamari, rice, saffron, and assorted vegetables you can adjust to your taste. Not only is this a delicious dish, but it's perfect for the holidays because it can feed a good group while only requiring one pan to cook in. Less clean up is always a win!
Mexican: Calamari Pozole Verde
Pozole verde is a Mexican stew made with tomatillos, green chiles, cilantro, hominy, and in our case, calamari. A warm and comforting dish, it is often served on Christmas Eve or other special occasions. How spicy the chiles and peppers are drives the dish, so sampling along the way will help reach the right balance for personal preferences.

Japanese: Calamari Steak Katsu
Calamari Steak Katsu is a great way to liven up a menu during the holiday. It combines a familiar dish with a novel protein, making it perfect for people who like to try new foods during the holidays. If you haven't tried our calamari steaks, you're missing out! They are available both in foodservice, as well as at retail in Whole Foods nationwide.

American: Calamari Steak Burger
While parts of the country might be experiencing some late-December snow, many other parts are coming out of hot-summer hibernation and enjoying more temperate weather. And what is a better way to get some sunshine than grilling? This classic Calamari Steak Burger is quick and easy, and while it might not be a traditional holiday dish, it's certainly a spin on a beloved American tradition.