Feast of the Seven Fishes (festa dei sette pesci)
Rhode Islanders share a passion for many things, especially when it comes to family, tradition, local pride, and seafood. The Feast of Seven Fishes brings all of these passions together, which means in Rhode Island, this is a celebrated meal that people love to plan, eat, and talk about.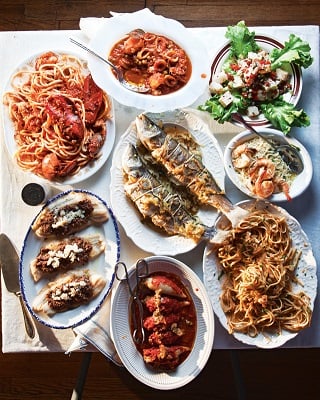 The Feast of Seven Fishes is an American-Italian tradition of serving seven different seafood dishes for Christmas. The tradition is believed to have originated in Southern Italy where people would abstain from eating meat and milk products on Christmas Eve. Today the Feast of Seven Fishes is celebrated across the globe. To Rhode Island's large American-Italian population, it is seen as an optimal time for getting together with family and friends, enjoying great seafood, and celebrating the holiday season.
At Town Dock, this holiday tradition is a favorite due to our business and love for seafood. A meal that consists of seven different seafood dishes does not go unnoticed! The Feast of Seven Fishes can incorporate a wide variety of recipes, with main ingredients that could include calamari, octopus, baccalà, flounder, sea bass, shrimp, mussels, clams, anchovies, whiting, lobster, sardines, smelts, eels – the list goes on.
With so many options, the biggest challenge is cutting down the selection to just seven dishes! Our recommendation is to let your inner "foodie" out! Get creative and consider recipes that contain multiple seafood ingredients of your choice, including heaps of delicious squid, of course! If you don't have time to test your culinary creativity skills, take a look at some of the recipes on our Town Dock website. They will have your mouth watering in minutes!