Share the Gift of Squid this Holiday Season!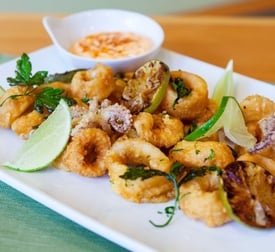 The holiday season is in full swing – Halloween has come and gone, leaving behind its sneakiest of tricks: the leftover treats invading workplaces from coast to coast. Thankfully, it's time to look onward to holidays that bring people together and to the dinner table.
From lite and fresh to hearty and robust, we have you covered when it comes to preparing the perfect calamari dishes for all of your holiday events and family meals.
We scoured recipe books, spoke to friends and family, and of course reached out to our fisherman. The results have left our mouths watering! We recommend the following holiday menu which features fresh calamari as the main ingredient, adorned with garlic, thyme, basil, tomatoes, leeks, parmesan cheese, imported Italian olive oil, and more. Simply delicious!
Appetizer:
Party Squid and Harissa Mayo
Delicately fried Rhode Island Calamari rings and tentacles, scattered with crispy parsley and a fresh squeeze of lemon, accompanied by a homemade harissa-garlic mayo for dipping.
First Course:
Calamari Stew with Garlic Toast
Rhode Island Calamari tubes and tentacles simmered to perfection in a tomato and garlic based stew, seasoned with fresh herbs and served with a thick slice of bread toasted to a golden brown.
Main Course:
Roasted Concertina Squid with Grilled Leeks and a Warm Chorizo Dressing
Fresh Whole Squid cut in a beautiful concertina effect, seasoned and roasted to perfection, served on a bed of chargrilled vegetables, drizzled with a homemade chorizo herb dressing and a fresh squeeze of lemon.
Our holiday menu is sure to impress you and your guests. We also want to invite you to impress us this holiday season. Show off your culinary flare and share your holiday squid dishes with our readers. Let the sharing begin!
Happy holidays!