Fourth of July – "Seafood Style" Grilled Calamari with Minted Red Pepper
It's the Fourth of July—you have burgers, hot dogs, baked beans, all of that goodness, but where is the seafood?! Seafood is just as easy to cook as a hot dog or hamburger, and with this recipe, you can do it right on the grill.
This recipe is labeled as easy so anyone can do it, but it only serves four. You may want to double or triple the ingredients depending on how big your Fourth of July party is!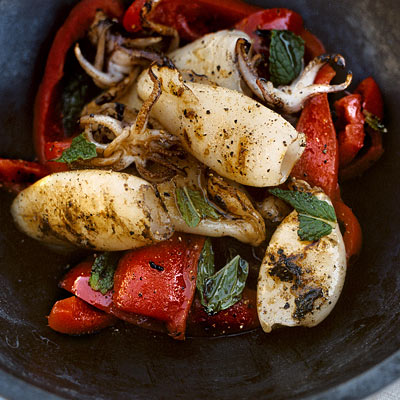 Level: Easy
Serves: 4
INGREDIENTS:
1 clove garlic
2½ tbsp. extra-virgin olive oil
3¼ tsp. kosher salt
1⅓ lb. calamari (about 10 small)
3 large red bell peppers
2 tsp. sherry vinegar
10 fresh mint leaves
DIRECTIONS:
Grate garlic over a large bowl. Stir in 1 tablespoon olive oil and 2 to 3 teaspoons salt. Add calamari; toss to coat. Refrigerate 10 minutes or up to 2 hours.
Preheat grill to high heat. Lightly coat peppers with olive oil. Grill about 20 minutes, turning occasionally until evenly charred. Transfer to a bowl and cover with plastic wrap. Set aside about 10 minutes. Carefully remove plastic; let peppers cool slightly. Working quickly, gently scrape off skin. Core and seed peppers, reserving juices. Slice into 1-inch-wide strips. In a bowl, combine peppers, their juices, vinegar, 1 tablespoon olive oil, and 1/4 teaspoon salt. Set aside in a warm place.
Grill calamari over high heat about 1 minute per side, until lightly charred (the tentacles will char faster than the rest—that's okay). Shake cooking juices out. Toss mint into pepper mixture, and place on serving dish. Top with calamari, season to taste, drizzle with 1/2 tablespoon olive oil, and serve.
(Recipe from www.delish.com/cooking/recipe-ideas/recipes/a5563/grilled-calamari-red-pepper/)