Kick Off the Football Season with Buffalo Fried Calamari!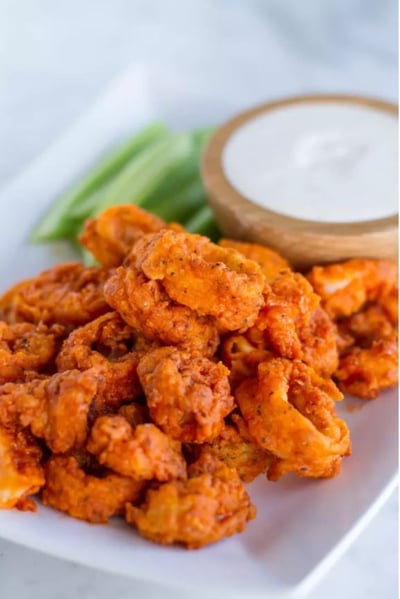 Are you ready for some football?!
The NFL season officially kicks off Thursday night, but Sunday is the first full day of nonstop football. From 1:00pm all the way to 10:20pm, there's really no reason to leave the couch.
And with the start of football season comes the start of great food, including snacks and appetizers. Some staples are wings, nachos, and taco dips, but have you ever thought about calamari?
Check out this recipe from BuzzFeed for buffalo fried calamari! Make it for having friends over for the early afternoon kick-off or for tailgating at your favorite team's home opener.
INGREDIENTS
Serving Size: 2
1 pound calamari, bodies sliced into ½ inch rings or frozen packaged
1 1/2 cups buttermilk
1 cup flour
2 teaspoons paprika
2 teaspoons salt
1 teaspoon black pepper
1 teaspoon garlic powder
Oil for, frying
1/4 cup buffalo sauce
Ranch dressing, for dipping
PREPARATION
Soak calamari in buttermilk and chill in the refrigerator for 30 minutes.
Preheat frying oil to 350˚F / 175˚C.
In a large bowl, stir together flour, salt, pepper, paprika, and garlic powder.
Dredge calamari in seasoned flour, tossing evenly to coat.
Carefully drop a handful of the calamari into the hot oil.
Cook until golden brown, about 1-2 minutes.
Remove calamari from the fryer and transfer to a paper towel-lined baking sheet.
Repeat with remaining calamari.
In an empty bowl, pour in buffalo sauce, then add in fried calamari. Toss around until evenly coated.
Serve with ranch dressing and enjoy!
(Recipe from BuzzFeed)