October is National Seafood Month
Every month has its own "National" holiday, but to us, this is the most important one. October is National Seafood Month!
To us, celebrating National Seafood Month includes sustainable fishing, providing high-quality seafood products, and, of course, eating our fair share of seafood—especially calamari!
Sustainable Fishing
This year, The Town Dock received a sustainability assessment for the Marine Stewardship Council (MSC) certification. This assessment is based on the MSC's three principles that every fishery must meet: the health of the fish stock, the impact of fishing on the marine environment, and management of the fishery.
The Town Dock can put the MSC label on all of its products, which means that the seafood came from a wild-catch fishery that has been independently certified to the MSC's standards for environmentally sustainable fishing. We fish our products in a way that minimizes damage to the environment to help protect earth's natural resources.
We take pride in being located in Point Judith, Rhode Island, and we remain as committed to the fishing industry and our surrounding community as we were when we first started over 30 years ago.
Providing High Quality Seafood Products
The Town Dock is involved in every step of the fishing process, and this is something made possible by our location right on the water in Point Judith. From when the product is unloaded from our boats, through the cleaning and packaging process, right through shipping, we are involved because of our commitment to bringing only the best seafood to our customers.
Ninety percent of what we do is calamari. We offer Rhode Island, Classic, fully cleaned, and traditionally cleaned calamari. No matter what dish it's used in, our calamari's quality stands out because of taste, texture, and ease of use.
In addition to calamari, we provide many fresh fish options and other products to our customers. Our fish is caught by our own fleet, carefully unloaded, sorted, cut, and packed at our Rhode Island location. Our fish includes flounder, bass, skate wings, cod, sea scallops, and more!
Eating Our Fair Share of Seafood
Calamari is a great tasting, easy-to-make protein that's perfect for making popular appetizers or serving as part of a main entrée. We love to find new ways to serve calamari and have created a collection of recipes over the years. In honor of National Seafood Month, check out this recipe for Italian Seafood Pasta with Mussels and Calamari!
Italian Seafood Pasta with Mussels & Calamari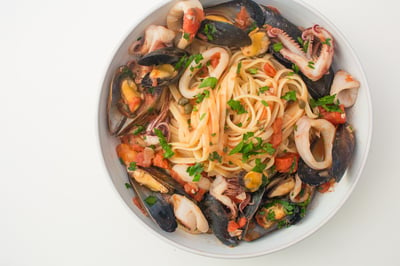 Prep time: 10 min
Cook time: 30 min
Total time: 40 min
Serves: 4
INGREDIENTS
Calamari – 3/4 lb, sliced into rings (It's ok to get the tentacles too)
Mussels – 1 lb, cleaned and debearded
Garlic – 2 cloves, minced
Shallots – 1/2 bulb, diced
Parsley – 1/4 bunch, chopped
Linguine – 1/2 lb
Cooking oil – 2 Tbsp
Anchovy paste (opt) – 1 1/2 tsp (Can find in tubes)
Capers – 1 Tbsp
Diced tomatoes – 1 can, drained of liquid
White wine – 2 Tbsp (Use a dry white like a pinot grigio or a sauvignon blanc)
Lemon – 1/2, juice of
PREP
Calamari – Slice.
Mussels – Cover in cold water and then drain.
Garlic / Shallots / Parsley – Prep as directed. (Can be done up to 3 days ahead)
MAKE
Bring a saucepan of water to boil. Salt generously and add linguine. Cook until al dente, tender but not soggy. Drain.
Heat a saute pan over medium-high heat. Add cooking oil and then garlic, shallots, anchovy paste, and capers to heated oil. Saute for ~2 minutes.
Add diced tomatoes and wine, and saute for another 3 to 4 minutes.
Add mussels to pan. Cover with a lid and cook for ~5 minutes. Give the pan a shake before removing lid and folding in calamari. Cook for another 3 to 4 minutes, until squid is cooked through. Toss with linguine and finish with lemon juice and then season to taste with salt and pepper. Garnish with parsley.
Enjoy your Italian seafood pasta (preferably with a glass of white wine!).
(Recipe from Cook Smarts)