Recipe: Calamari "al Pastor" Tostada
Calamari "al Pastor" Tostada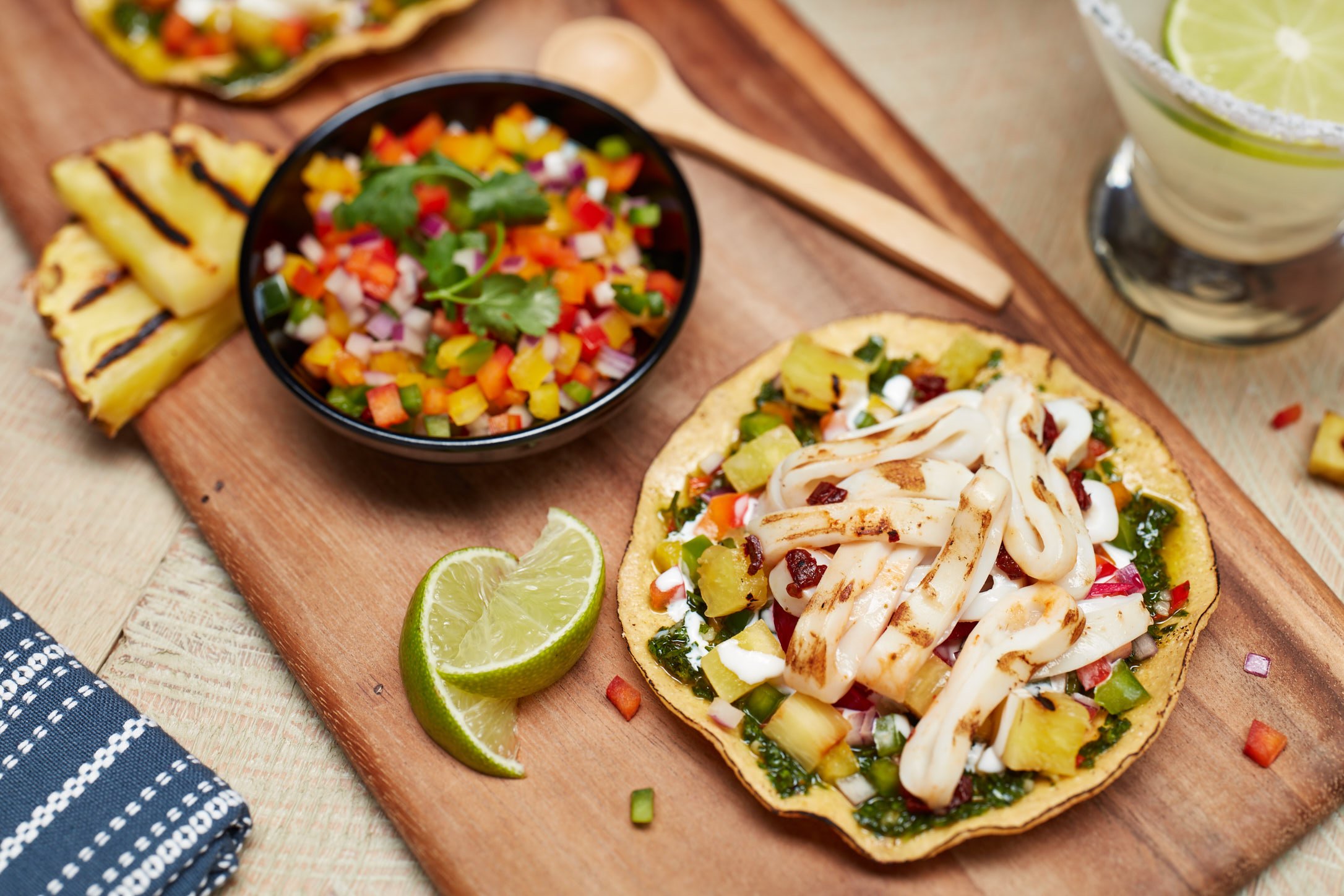 Yield: 12 tostadas
Marinade:
1 cup pineapple juice
½ cup orange juice
6 large garlic cloves, minced
3 tbsp. oregano, dried
4 oz. chipotle peppers in adobo, rough chopped
1 tbsp. cumin
2 tbsp. salt
Ingredients:
2 lb. The Town Dock Calamari Tubes
1 lb. pineapple, ¼" thick discs
12 each prepared tostada chips
¾ cup chimichurri, prepared
¾ cup crema
¾ cup cilantro, roughly chopped
Pickled Red Onions:
1 lb. red onion, julienne
6 fl. oz. apple cider vinegar
6 fl. oz. distilled white vinegar
12 fl. oz. water
¼ cup granulated sugar
Pico de Gallo:
½ cup red onion, small dice
1 tbsp. jalapeño, minced
¾ cup red bell pepper, small dice
¾ cup yellow bell pepper, small dice
¾ cup orange bell pepper, small dice
¾ cup green bell pepper, small dice
Preparation
Pickled Red Onions: May be prepared 1–3 days ahead. Combine pickling ingredients in a medium saucepot and bring to a simmer over medium heat. Place julienned red onions in a heat resistant container and pour in hot pickling liquid. Cover immediately and let sit at room temp 1 hour. Refrigerate until ready to serve.
Al Pastor Marinade: In a large bowl mix together marinade ingredients. Add whole calamari tubes and stir to thoroughly cover in marinade. Cover and refrigerate 45 min. to 1 hour before cooking.
Pico de gallo: Combine all pico ingredients. Cover and refrigerate until ready to serve.
Assembly: This is recommended before cooking the calamari, as calamari must be served immediately after cooking and slicing. Spread 1 tbsp. chimichurri on each tostada followed by 3 tbsp. pico de gallo, 2 tbsp. charred pineapple, 1 tbsp. crema, and 1 oz. pickled red onion.
Cooking: Pre-heat grill to highest heat setting. Grill pineapple discs on high heat until charred on both sides. Dice and set aside until ready to serve.
Grill 2 oz. marinated calamari tubes (per tostada) on high heat for 60–90 seconds on each side. Slice into ¼" rings and place atop assembled tostada. Garnish with lime and cilantro.