Recipe: Cozy Calamari Stew
There's nothing more comforting than a warm stew - perfect for the winter weather we've been having here in Rhode Island. It's also pretty easy to put together, and makes the perfect quick weeknight meal. (Do you want to spend hours cooking after you just spend hours snow-blowing? We don't!) Here's a great combination that brings the health benefits of tomatoes - like antioxidant lycopene and vitamin C - with the health benefits of calamari, like omega-3 fatty acids and various B-vitamins.
We like this recipe with rings, but if you have tubes, you can cut them into strips or bites. Just be sure the adjust your cooking time accordingly for smaller pieces. If you use tentacles, think about the size compared to the rest of your calamari - you might want to give them a quick head start in cooking.
This recipe makes two servings, or up to four servings that pair great with crusty baguette, garlic bread, or even a grilled cheese (extra tasty with this stew is a mozzarella, prosciutto, and basil combo!).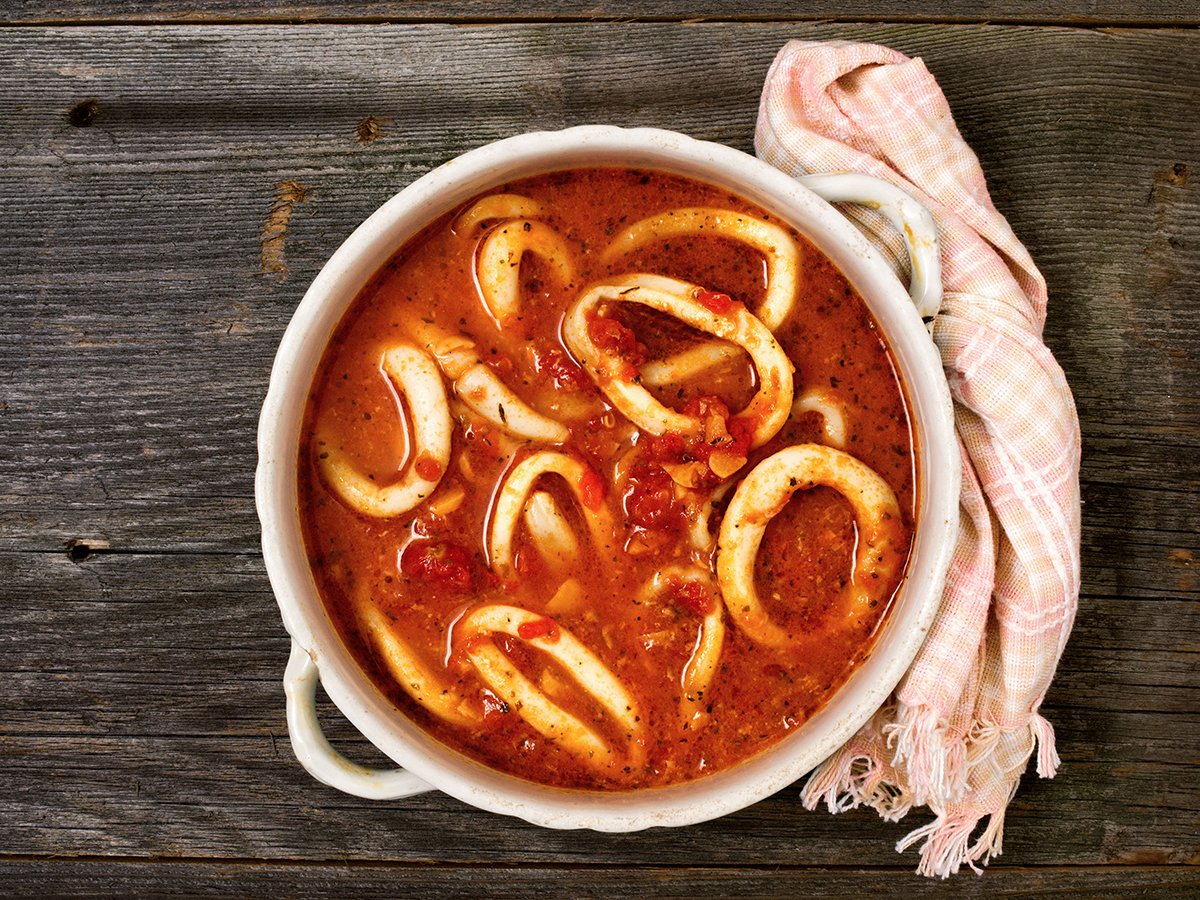 Ingredients:
1 lb. The Town Dock Calamari, thawed
1 tablespoon olive oil
1-2 cloves chopped garlic (to taste)
1 cup tomato sauce
1/2 cup white wine
1 teaspoon chopped basil
Salt, to taste
Black pepper, to taste
Red pepper flakes, to taste
Preparation:
In a medium pot large enough for your stew, heat the olive oil over a medium-high heat.
Add the chopped garlic and let cook for about 2 minutes.
Add the tomato sauce, white wine, half the basil, red pepper flakes, salt, and pepper. Stir together and bring the mixture to a simmer. (When adding salt, remember that calamari will bring a little bit of that ocean flavor - you may want to add a little now and potentially add more after a taste test at the end.)
Add the thawed calamari and and stir into the tomato mixture. Cook until the mixture comes back up to a simmer, about 2 more minutes. Calamari cooks very quickly, so pay close attention or your calamari will get rubbery.
Ladle into bowls, garnish with remaining basil, and serve.