Recipe: IPA Battered Calamari with Orange Juice Cocktail Sauce
IPA Battered Calamari with Orange Juice Cocktail Sauce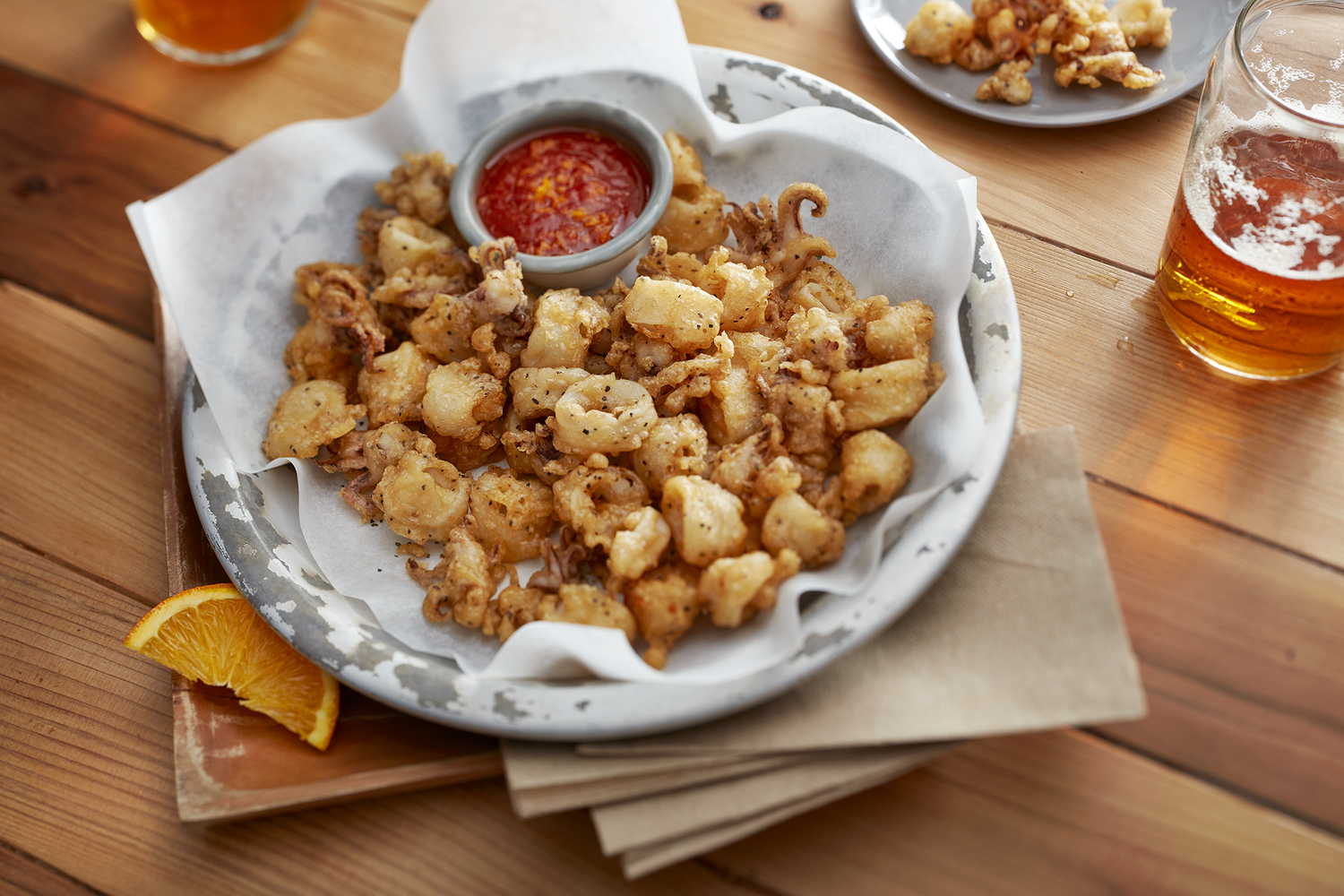 Yield: 12, 8-oz servings
Ingredients
6 lb. The Town Dock Calamari Rings and Tentacles
2.5 qt. IPA (for marinade)
6 fl. oz. orange juice (for reduction)
1.3 gal IPA (for reduction)
¾ cup parsley, roughly chopped
6 oranges
Orange Juice Cocktail Sauce:
3 cups cocktail sauce
3 oz. orange juice reduction (see step 2.)
1 tbsp. orange zest
1.5 tsp. horseradish
IPA Batter:
6 cup all-purpose flour
2 cup cornstarch
>84 fl. oz. IPA reduction
4 tbsp. salt
2 tbsp. black pepper
Preparation
Marinate calamari in IPA for 1–2 hours before cooking.
To prepare orange juice and IPA reductions, heat each in its own medium pot on medium high heat. Simmer until each has reduced in volume by half.
Orange Juice Cocktail Sauce: Combine prepared cocktail sauce with orange juice reduction, orange zest, and horseradish. Stir until combined. Cover and refrigerate until ready to serve.
IPA Batter: Make right before you are ready to batter your calamari. Combine flour, cornstarch, salt, pepper, and IPA reduction. Whisk into a smooth batter with no lumps.
Cooking: Pre-heat fryer to 375℉. Place dredging flour in a large bowl. Weigh out 8 oz. marinated calamari for one portion. Allow excess IPA to drip off calamari before dropping it into flour. Toss until all rings and tentacles are evenly coated.
Shake off excess flour, and coat calamari in IPA batter. Allow excess batter to drip off calamari before dropping into 375℉ oil for 90 seconds. Shake fryer basket to avoid calamari sticking together.
Plate 8 oz. calamari and garnish with chopped parsley, orange zest, and 3 oz. orange cocktail sauce.