Recipe: Fire Roasted Calamari Tacos
From traditional street fair to inspired fusion favorites, few foods are as beloved and adaptable as the taco. While many people now associate tacos with beef or pork - carne asada or al pastor - it may have originally been a seafood item, stuffed with small fish from the lakes region in the Valley of Mexico.

Our recipe combines oven-roasted and seasoned calamari, served in corn tortillas with fresh avocado chunks and a multicolored sweet chili slaw made with cabbage and carrots.
We use rings and tentacles (pictured with our Rhode Island Calamari), but it's easily adapted to rings only or, for your more adventurous eaters, tentacles only. You can also run with the concept for calamari steak taco salad.

Enjoy the recipe below and be sure to share the finished product with the hashtag #towndockrecipes!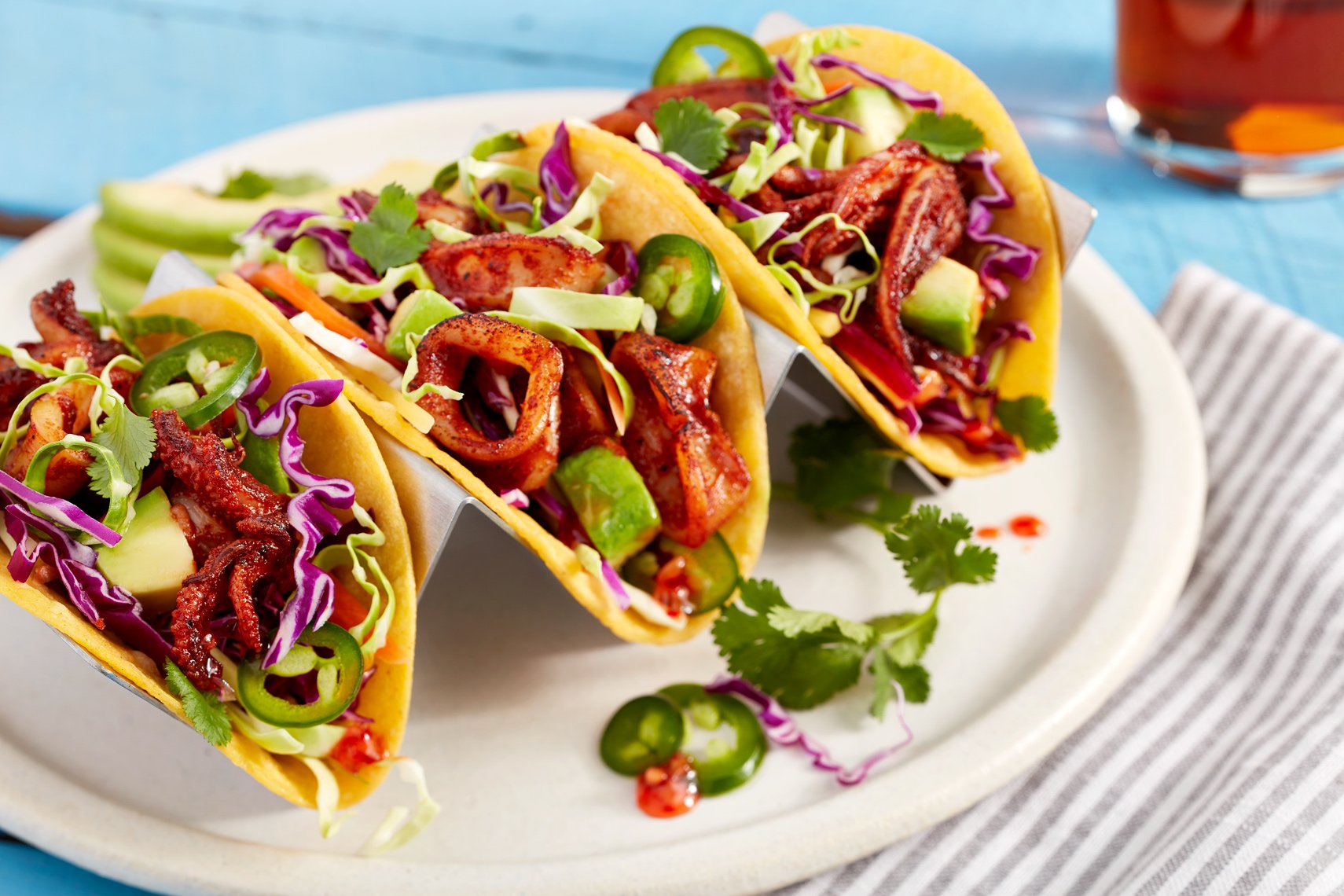 Yield: 12 servings
Ingredients:
2.5 lb. The Town Dock Calamari Rings and Tentacles
36 each Corn tortillas, warm
4 cups Cabbage blend, finely shredded
4 cups Carrots, julienned
¾ cup Jalapeño peppers, sliced thin
6 oz. Sweet chili sauce, prepared
6 each Avocado, diced
12 each Cilantro sprigs
Marinade:
⅓ cup Sriracha
¼ cup Teriyaki sauce
2 Tbsp Smoked paprika
1 Tbsp. Onion powder
1 Tbsp. Chili powder
1 Tbsp. Salt
½ Tbsp. Garlic powder
½ Tbsp. Black pepper
Preparation:
Marinate: Combine all ingredients in a bowl. Add calamari rings and tentacles and stir to coat. Cover and marinate at least 30 minutes.
Cook: Coat wire rack with non-stick spray and place over sheet pan. Place 3 ½ oz. marinated rings and tentacles on rack (for 3 tacos), and roast in preheated 400°F convection oven for 4-5 minutes.
Assemble: In small bowl, add ⅓ cup each: cabbage and carrots, as well as 1 tbsp. each: jalapeño slices and sweet chili sauce. Toss to coat and divide mixture among 3 warm tortillas. Split half a diced avocado over top and finish with roasted calamari. Serve immediately.