Recipe: Air Fryer Calamari
Fried calamari rings are one of America's favorite appetizers. While you can pan fry calamari at home - see our recipe for Town Dock Style Calamari - our friends at Dish on Fish shared this great recipe for Air Fryer Calamari with us, so we wanted to pass it on to you!
Calamari is a good source of protein, naturally low in fat, and has omega-3 fatty acids. Especially when prepared healthfully, it's an excellent choice of proteins, and it continues to be readily available in the supply chain.
When safe and possible, we encourage you to continue to support your local restaurants with take-out or delivery meals and gift card purchases. But when you're home, grab your air fryer and enjoy!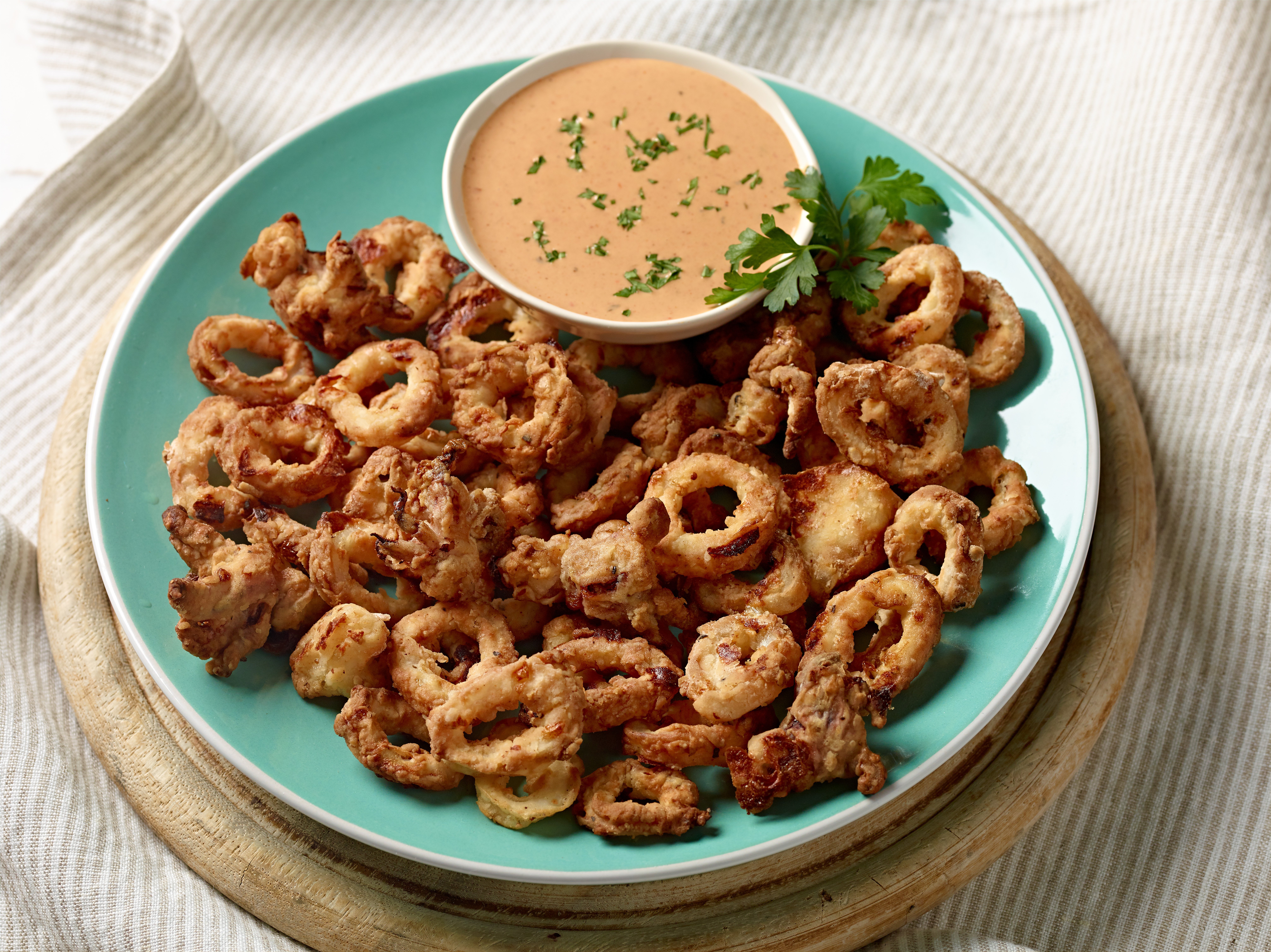 Air Fryer Calamari with Chipotle Dipping Sauce
Prep time: 25 minutes
Cook time: 10 minutes
Total time: 35 minutes
Makes 4 appetizer-sized servings
Suggested cooking tools: air fryer, cooking spray or oil, 3 medium mixing bowls + 1 bowl for dipping sauce, knife, cutting board
Ingredients
1 lb. frozen calamari, *thawed, cleaned and thinly sliced into rings ¼ inch wide, with the tentacles separately sliced into small pieces
2 Tbsp. freshly squeezed lemon juice
1 ¼ cups all-purpose flour (or a gluten-free alternative)
1 tsp. paprika or Old Bay seasoning
½ tsp. kosher salt
½ tsp. ground black pepper
½ cup milk
1 large egg
Prepared creamy chipotle sauce, for dipping
Instructions
Dry the thawed and sliced calamari with a paper towel. Place all the calamari into medium mixing bowl and toss with lemon juice, until well coated.
Lightly oil air fryer basket (or coast basket with cooking spray); return basket to air fryer and preheat air fryer to 400 F.
In another medium mixing bowl, combine flour, paprika (or Old Bay) and salt and pepper; mix well.
In a third mixing bowl, whisk milk and egg until well combined.
Dredge each piece of calamari first in the flour mixture, then in the egg mixture, and finally in the flour mixture again, until well coated.
Place one layer of coated calamari in air fryer basket. (Do not overlap calamari. If extra pieces remain, cook calamari in batches.) Coat calamari with cooking spray.
Cook at 400 F for 8 minutes, or until calamari is cooked through. Serve immediately with bowl of chipotle sauce, for dipping.
*Pro tip: Thaw calamari overnight in refrigerator. Or for a quick thaw, put frozen calamari in a large baggie, seal baggie well and place it under cool running water for about 20-30 minutes.
Reprinted with permission from National Fisheries Institute Dish on FishTM www.DishonFish.com