Recipe: Kimchi Calamari Poke Bowl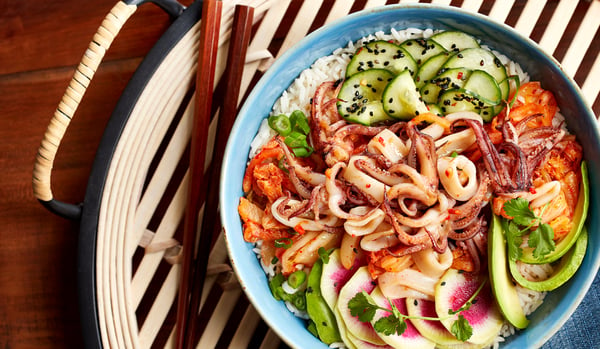 Fried food isn't everyone's go-to for takeout, so here's a new recipe that's perfect to pack up to go: Kimchi Calamari Poke Bowls.
It's beautiful when it can be plated, but even in takeout, it's still delicious. Use only calamari for a unique and cost-effective offering, or add calamari in with sushi-grade fish fill out the proteins help reduce the recipe cost overall.
If you're a home chef, cut the recipe in thirds to make 4 servings at home. Snap a photo and be sure to tag #calamariathome!
Foodservice recipe: yields 12 servings
Ingredients
5 lb. Calamari Rings & Tentacles
12 cups jasmine rice, cooked
36 each avocado slices
¾ cup radish, thin sliced
12 each fresh cilantro sprigs
1 tbsp. black sesame seeds
Poke Marinade:
⅓ cup soy sauce
⅓ cup sesame oil
3 tbsp. honey
3 tbsp. grated ginger root
3 cups kimchi, chopped
1 tbsp. sriracha
½ cup green onion, chopped
Cucumber Salad:
2½ cups cucumber slices
1 cup seasoned rice vinegar
¾ cup sugar
1 tbsp. grated ginger root
1 tsp. salt
¼ tsp. crushed red pepper
1 tsp. black sesame seeds
Prep
Cook: Sauté calamari in batches, being careful not to crowd, in large dry pan over high heat for 2-3 minutes. Rinse cooked calamari under cold water to cool; drain well.
Marinate: In large bowl, whisk to combine all ingredients, add cooked calamari, cover and marinate under refrigeration for at least 1 hour.
Pickled Cucumber: In small bowl, combine vinegar, sugar, ginger, salt, chili flakes and sesame seeds; whisk until dissolved. Add cucumber, cover and refrigerate for at least 30 minutes.
Assemble: Serve 1 cup cooked rice and top with a section of each ingredient: 4 oz. chilled and marinated calamari, 1 ½ tbsp. radish, 3 slices avocado, ¼ cup pickled cucumber salad, 1 tsp. black sesame seeds, and a cilantro sprig. Serve immediately.