Recipe: Chimichurri Calamari Steak Sandwich
We often talk about how versatile calamari is - and whatever you can't do with a smaller calamari tube, you an definitely do with our calamari steaks. Our steaks are cut from Dosidicus gigas (also called Jumbo squid or Humbolt squid) fished off the shores of Peru. Calamari steaks are cost-effective swap for your standard seafood sandwiches, but can also hold up in a lot of other sandwiches where you might use beef steak or chicken (oh, just wait to see some of the recipes to come!).
Here, we're doing a simple grilled calamari steak with a classic chimichurri sauce. Chimichurri, which has its origins in rural Argentina, is an uncooked sauce with fresh herbs and garlic. It brings a tangy brightness that pairs perfectly with the seafood flavors.
Like many of our recipes, this is scaled for foodservice, but if you scale it back by about a quarter, it's pretty easy for home cooking. Some stores also carry jars or containers of chimichurri sauce if you don't want to make your own!
Yields 12 servings
Ingredients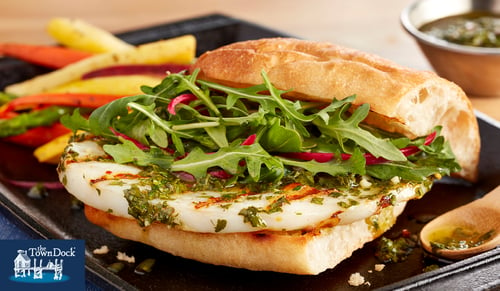 12 each Calamari Steaks
3 cups baby arugula
6 oz. honey dijon vinaigrette
12 each ciabatta buns
Chimichurri:
2 tbsp. garlic, rough chop
½ cup fresh parsley
¼ cup fresh cilantro
1 cup olive oil
3 tbsp. lemon juice
1 tbsp. white wine vinegar
1 tbsp. dried oregano
1 tbsp. crushed red pepper
½ tbsp. salt
Pickled Red Onions:
1 each red onion
1 each garlic clove
½ tsp. sugar
½ tsp. salt
¾ cup white wine vinegar
5 each black peppercorn
2-3 cups boiling water
Preparation
Chimichurri: In a food processor, process garlic until minced. Add fresh parsley and cilantro and pulse until uniformly chopped. Add in remaining ingredients and pulse until well combined. Transfer to an airtight container and refrigerate. Use 1½ cups of chimichurri for marinade and reserve remaining for sandwich assembly.
Pickled Onions: Can make 1-3 days in advance. Slice onions into ¼ inch moons. Peel and cut the garlic clove in half. In a storage container, whisk together sugar, salt, vinegar, and black pepper corns. Whisk to dissolve. Place the onions in a sieve over the sink. Slowly pour boiling water over the onions and let them drain. Add the onions and garlic to seasoned vinegar mixture and stir gently to evenly distribute the flavorings. Cover and let marinate under refrigeration for at least 30 minutes before serving.
Marinate: Add calamari steaks to 1½ cups chimichurri and turn to thoroughly cover in marinade. Cover and refrigerate 30 minutes to 1 hour before cooking.
Cook: Preheat open flame grill to medium-high heat. Grill calamari steak for 2-2 ½ minutes per side.
Assemble: Place grilled calamari steak on buttered & toasted ciabatta bun. Drizzle steak with ½ tbsp. chimichurri and top with ¼ cup baby arugula tossed in 1 tbsp. honey Dijon vinaigrette, 3-4 slices of pickled onions and close with top bun. Serve immediately.