Recipe: Shores of the Mediterranean Calamari Fritta (Gluten-Free) with Greek Yogurt Dipping Sauce
Shores of the Mediterranean Calamari Fritta (Gluten-Free) with Greek Yogurt Dipping Sauce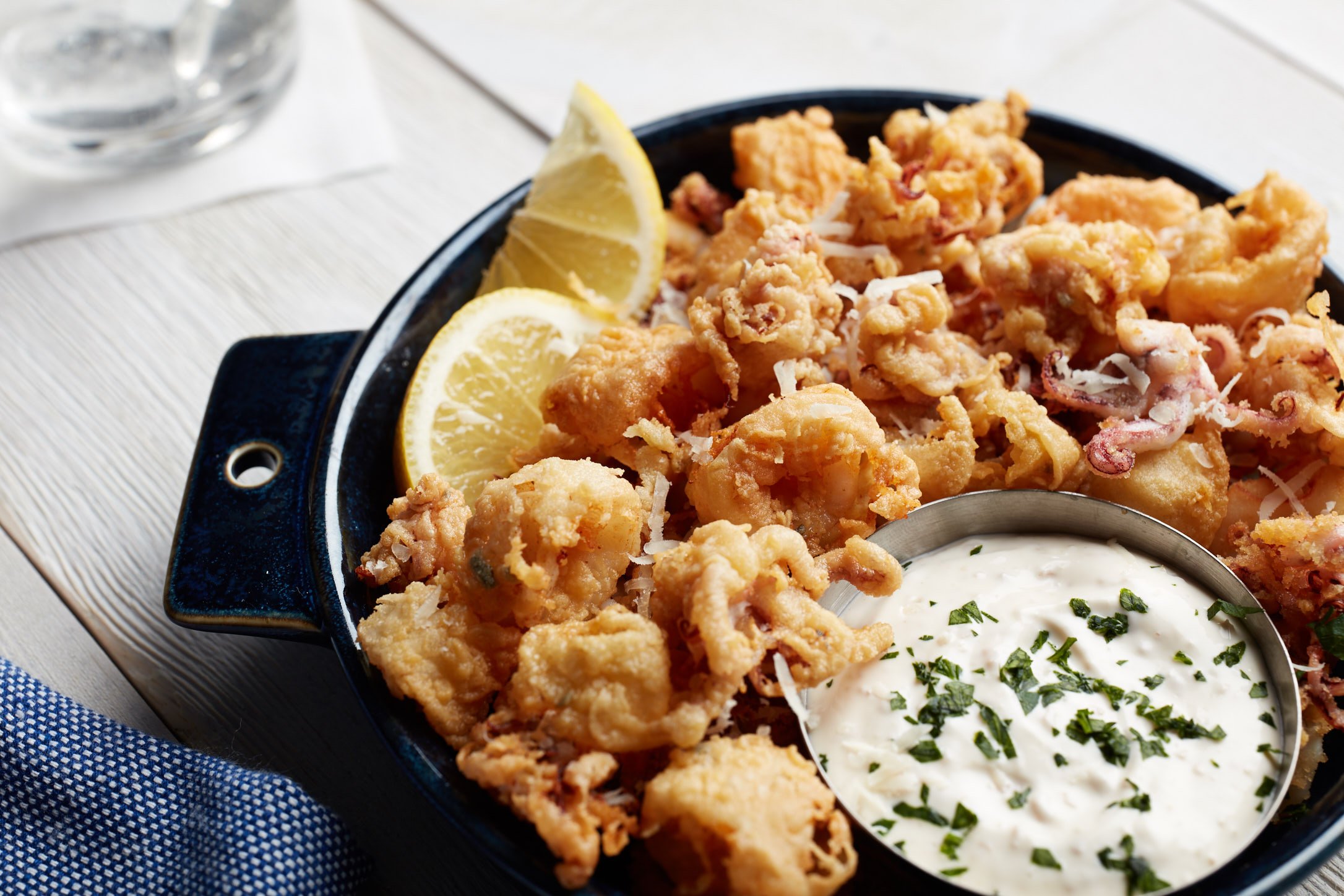 Yield: 12, 8-oz. servings
Marinade
4 cups plain Greek yogurt
2 cups lemon juice
8 cups buttermilk
¼ cup Italian herbs, dry
Ingredients
6 lb. The Town Dock Calamari Rings and Tentacles
13.5 cups garbanzo bean flour
4.5 cups cornstarch
6 oz. salt
24 lemon wedges
¾ cup parsley, roughly chopped
8 oz. parmesan cheese, shredded
Greek Yogurt Dipping Sauce:
12 oz. plain Greek yogurt
12 oz. mayonnaise
10 cloves garlic, roasted
2 tbsp. lemon juice
1 tbsp. salt
Preparation
Marinade: Mix marinade ingredients together in a large bowl. Add calamari rings and tentacles and stir to thoroughly cover in marinade. Cover and refrigerate 45 min. to 1 hour before cooking.
While calamari marinates, prepare gluten-free coating in a large bowl by combining the garbanzo bean flour, cornstarch, and salt. Whisk until all dry ingredients are well combined. Set aside.
Greek Yogurt Dipping Sauce: Combine all dipping sauce ingredients. Stir to form a smooth sauce. Cover and set aside in the refrigerator until ready to serve.
Cooking: Pre-heat fryer to 375℉. Weigh out 8 oz. of calamari for one portion. Allow excess marinade to drip off calamari before dropping it into the coating. Gently toss calamari with coating, separating any large clumps so that each ring and tentacle is evenly coated.
5. Shake off excess dredge mix and drop calamari into 375°F oil for 90 seconds. Shake fryer basket to avoid calamari sticking together.
Plate 8 oz. of calamari. Garnish with 2 lemon wedges, shredded parmesan cheese, and 3 oz. of Greek yogurt dipping sauce.