Recipe: California Popcorn Calamari
To innovate is to make changes in something established; a new method, idea or product. To celebrate the launch of The Town Dock's industry-leading third cleaned USA calamari line, Sunset Catch Calamari, Town Dock National Account Business Development Manager and longtime chef, John Fee, developed an innovative twist to a menu staple designed for the California squid – Doryteuthis (loligo) opalescens.
We're calling it Town Dock's California Popcorn Calamari, and it is a variation of a pineapple cut in that the tube is cut flat and scored twice diagonally making a checkerboard before being cut lengthwise into strips. Watch the video below to see how!
"It's unique, it's fun, and it makes calamari more approachable for restaurant patrons who may be a little intimidated by traditional rings and tentacles," said Fee. "I could see this being a specialty appetizer that has staying power on menus because it's something the whole family can enjoy."
This application can be done with any species of squid, but the market squid, as it's known on the West Coast, is perfect for popcorn calamari because it is slightly smaller than the typical Northeast loligo.
Give Town Dock's California Popcorn Calamari a shot and let us know what your customers think!
Town Dock California Popcorn Calamari
Ingredients
2.5 lbs. Town Dock Sunset Catch Calamari
1 ¾ Cup Flour
3 Tsp. Garlic Powder
Black Pepper to taste
Corn Oil
Chopped Parsley
Grated Parmesan Cheese
Lemon
Instructions
Coat a heavy skillet with about 1 inch of corn oil. Begin heating the oil on medium-high heat. Alternatively, use a fryer set to 350°.
Mix flour, garlic powder, and pepper in a large bowl and set aside. Or, use readymade seafood breading.
Insert knife in calamari tube and slice the tube in half with one cut. Lay the tube flat (inside facing up) and score the tube diagonally; careful not to cut the tube all the way through. Turn the tube 90° and score diagonally again creating a checkerboard. Lay the scored tube flat and cut lengthwise creating three equal strips. Repeat this process for all tubes.
Add calamari strips and tentacles into breading mix and toss until evenly coated. Place calamari in a coarse mesh breading basket to shake off excess breading.
Evenly place calamari in the skillet once the oil is very hot. Cook until golden brown (approx. 45 seconds).
Remove calamari from skillet and set aside on paper towels. Then, plate and garnish with chopped parsley, grated parmesan and lemon slice.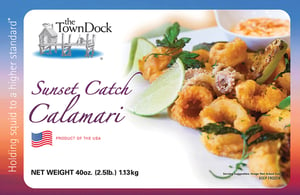 Sunset Catch Calamari is now available! Contact your local distributor or contact The Town Dock.