Recipe: White Calamari Pizza
Pizza is one of the most popular foods in the world, and for good reason. It's delicious, versatile, and can be enjoyed by people of all ages. But if you're looking for something a little healthier than the standard pepperoni pizza, why not try white calamari pizza?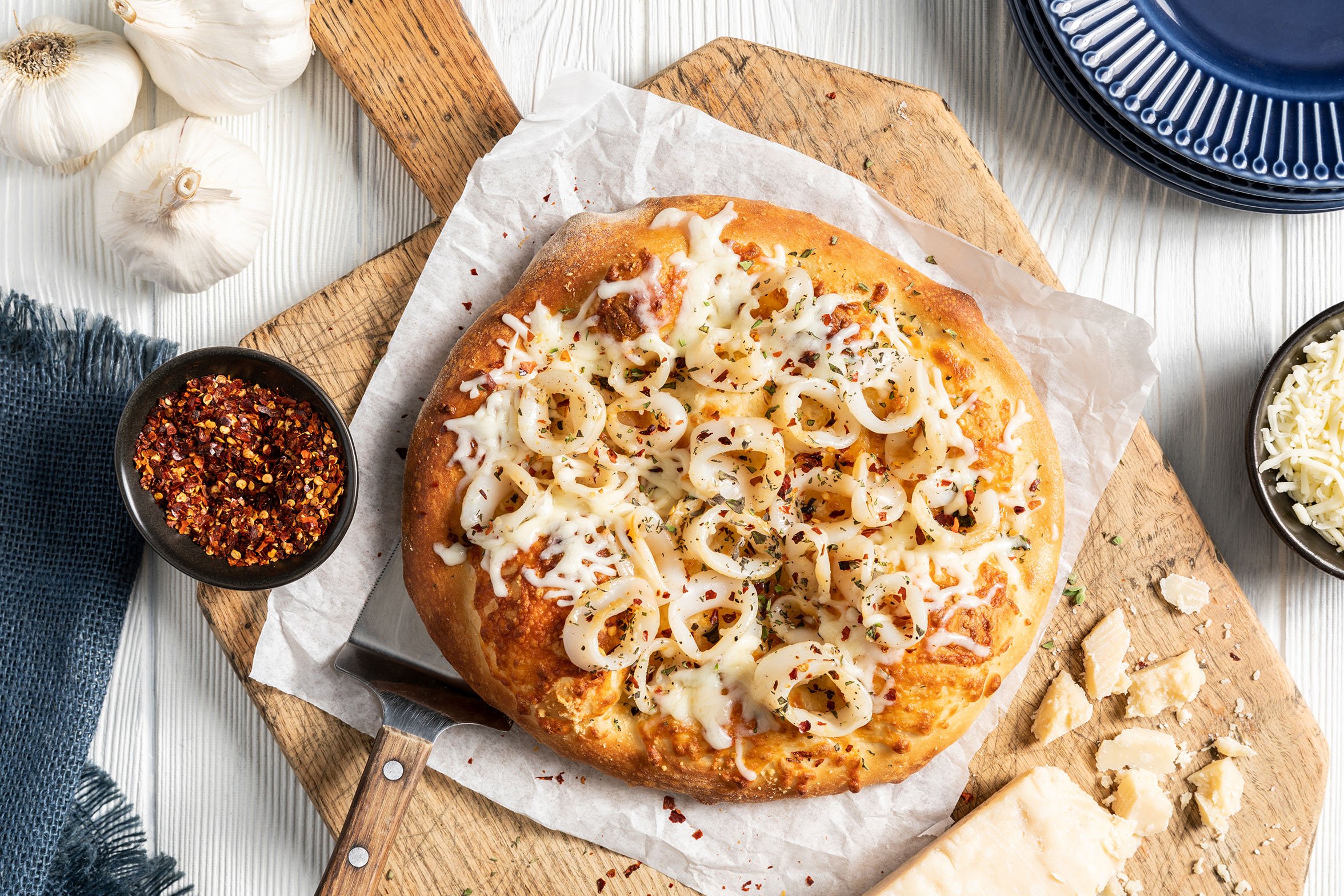 This unique and flavorful pizza is made with shredded mozzarella and Pecorino Romano cheeses, fresh oregano, and calamari rings. The calamari is cooked until tender and then topped on the pizza, along with crushed red pepper flakes and a drizzle of olive oil. Trying to cook calamari with the pizza typically overcooks the rings, making them chewy, dry, or both. Adding them after ensures both the pizza and the calamari are cooked to perfection!
White calamari pizza is a great option for foodservice operators because it's relatively easy to make and can be customized to fit your customers' dietary needs. For example, you can use gluten-free pizza dough or vegan cheese to make the pizza suitable for people with dietary restrictions.
Here are some tips for making white calamari pizza:
Use pre-made pizza dough to save time.

Thaw frozen calamari rings overnight in the refrigerator, or cold water thaw if you're in a hurry.

Cook the calamari in batches to avoid overcrowding the skillet.

Shred your own mozzarella and Pecorino Romano cheeses for the best flavor.

Top the pizza with fresh oregano and crushed red pepper flakes for a flavorful finish..
Benefits of white calamari pizza for foodservice operators:
Easy to make.

Customizable to fit customers' dietary needs.

Unique and flavorful.

Relatively inexpensive to produce.

Can be served as an appetizer or main course.
Here are some ideas for how to market white calamari pizza to your customers:
Promote it as a unique and flavorful pizza that is perfect for seafood lovers.

Highlight the fact that it can be customized to fit dietary restrictions.

Offer it as a special menu item or limited-time promotion.

Note that calamari is low in fat and has heart-healthy omega-3 fatty acids, and is lower calories than many meat toppings.
Recipes for white calamari pizza:
The recipe down below in this blog post is a great place to start!

You can also make a white calamari pizza that uses a béchamel sauce or a garlic white sauce.

If you're looking for a more adventurous recipe,

try this white calamari pizza with chorizo and fennel.
No matter how you choose to make it, white calamari pizza is a delicious and unique pizza that is sure to be a hit with your customers.
Recipe: White Calamari Pizza
Prep time: 10 minutes
Cook time: 24 minutes
Ready in: 34 minutes
Makes: 2 pizzas
Ingredients:
1 lb. The Town Dock Calamari Rings, thawed
1 lb. pizza dough, room temperature
1 cup shredded mozzarella cheese
1/2 cup Pecorino Romano cheese
1 tbsp. minced fresh oregano, plus more for garnish
1 tbsp. olive oil, plus more for garnish
2 cloves garlic, minced
1/2 tsp. each kosher salt and freshly ground black pepper
1 tsp. crushed red pepper flakes
Preparation:
1. Place pizza stone in oven and preheat to 500°F. Divide pizza dough into 2 balls. On a lightly floured surface, press each ball into a 10-inch round circle. Transfer dough round to lightly floured pizza peel. Sprinkle with half the mozzarella, Pecorino and 1 1/2 teaspoons of oregano, leaving a 1/2-inch border. Quickly slide pizza onto preheated pizza stone. Bake, rotating pizza halfway through, until crust is golden-brown and cheese is melted, about 7 to 8 minutes. Repeat with remaining dough, cheese and oregano.
2. Meanwhile, heat oil in large skillet over medium-high heat. Add calamari and cook, stirring occasionally, until fully cooked, about 2 to 4 minutes. Stir in garlic, and cook until fragrant, about 30 seconds. Season with salt and pepper.
3. Top pizzas with calamari. Garnish with crushed red pepper flakes, oregano and a drizzle of olive oil. Slice and serve.
Love this and looking for more? Check out:
Popular keywords: pizza, recipes, seafood, foodservice, calamari