Recipe: Calamari Scampi with Linguini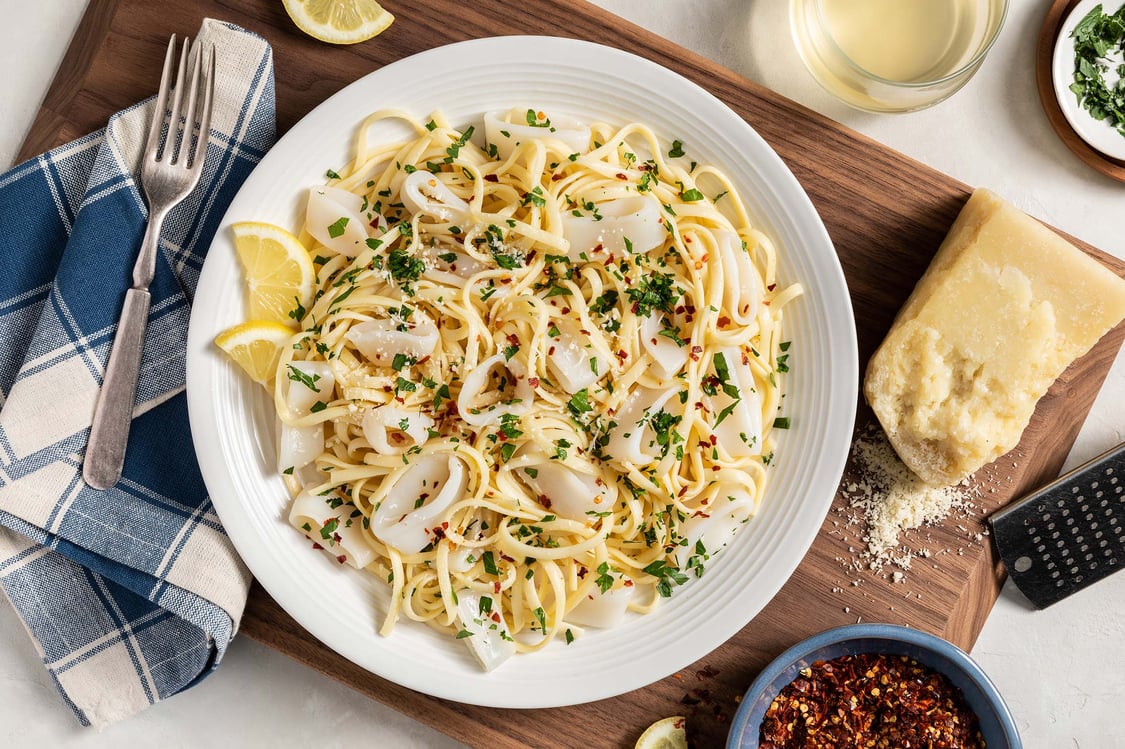 Pasta recipes are a staple in many home chefs' kitchens, and for good reason. They are delicious, versatile, and relatively easy to make. But if you're looking for something a little different from your usual spaghetti and meatballs, try calamari scampi with linguini.
This dish is packed with flavor, thanks to the calamari, garlic, white wine, and lemon juice. It's also quick and easy to make, so it's perfect for a weeknight meal.
Here's everything you need to know to make calamari scampi with linguini at home:
Ingredients:
1 lb. The Town Dock Calamari Rings, thawed
1 lb. dry linguine pasta
1/4 cup unsalted butter, divided
2 tbsp. olive oil
3 cloves garlic, minced
1/2 cup dry white wine
1 lemon, juiced
1/4 cup chopped fresh parsley
1 tsp. each Kosher salt and freshly ground pepper
1/2 cup grated Parmesan cheese
2 tsp. crushed red pepper flakes
Instructions:
Bring large pot of salted water to boil over high heat. Cook pasta according to package directions. Drain and set aside.
Melt 2 tablespoons butter and oil in large skillet over medium-high heat. Add calamari and cook until fully cooked, about 3 to 5 minutes. Stir in garlic, and cook until fragrant, about 30 seconds. Transfer to plate and set aside.
Add wine and lemon juice to the same skillet and cook, scraping up brown bits from the bottom of the pan, as needed, until combined, about 3 minutes. Add remaining butter, and bring to a simmer.
Add calamari, pasta and parsley, and toss to coat, about 1 minute. Season with salt and pepper. Top with Parmesan and crushed red pepper flakes. Serve and enjoy.


Tips:
Be sure to thaw calamari completely before cooking. You can thaw overnight in the refrigerator or under cool running water; follow the safe handling instructions on the package.
Don't overcook the calamari, or it will become tough. Set a timer because it cooks quickly!
If you want a thicker sauce, you can add a splash of heavy cream or half-and-half to the skillet before adding the calamari and pasta.
Serve with a side of crusty bread to soak up all of the delicious sauce and a salad for a complete meal.
Variations:
Add extra red pepper flakes to the skillet along with the garlic for a spicier dish, or omit them for less heat.
Add a handful of chopped sun-dried tomatoes to the skillet along with the calamari for a more flavorful dish.
Add a splash of balsamic vinegar to the skillet along with the white wine for a more complex flavor.
Why Chefs Love Calamari Scampi with Linguini
There are many reasons why chefs love calamari scampi with linguini. First, it's a delicious dish that is sure to please even the pickiest eaters. Second, it's easy to make, so it's perfect for a weeknight meal. Third, it's versatile and can be customized to your liking.
Here are a few more reasons why home chefs love calamari scampi with linguini:
It's a healthy dish that is low in calories and fat.
It's a good source of protein and contains omega-3 fatty acids.
It's a relatively inexpensive dish to make.
If you're looking for a delicious, easy-to-make, and versatile pasta dish, try calamari scampi with linguini. It's sure to become a favorite in your kitchen!