Smoked Calamari BLT Sandwich: A Creative Seafood BLT Recipe
Looking for the best seafood BLT sandwich recipe? Look no further! We'll walk you through how to make a perfect seafood BLT sandwich with our calamari steaks.
(Click here to skip right to the recipe!)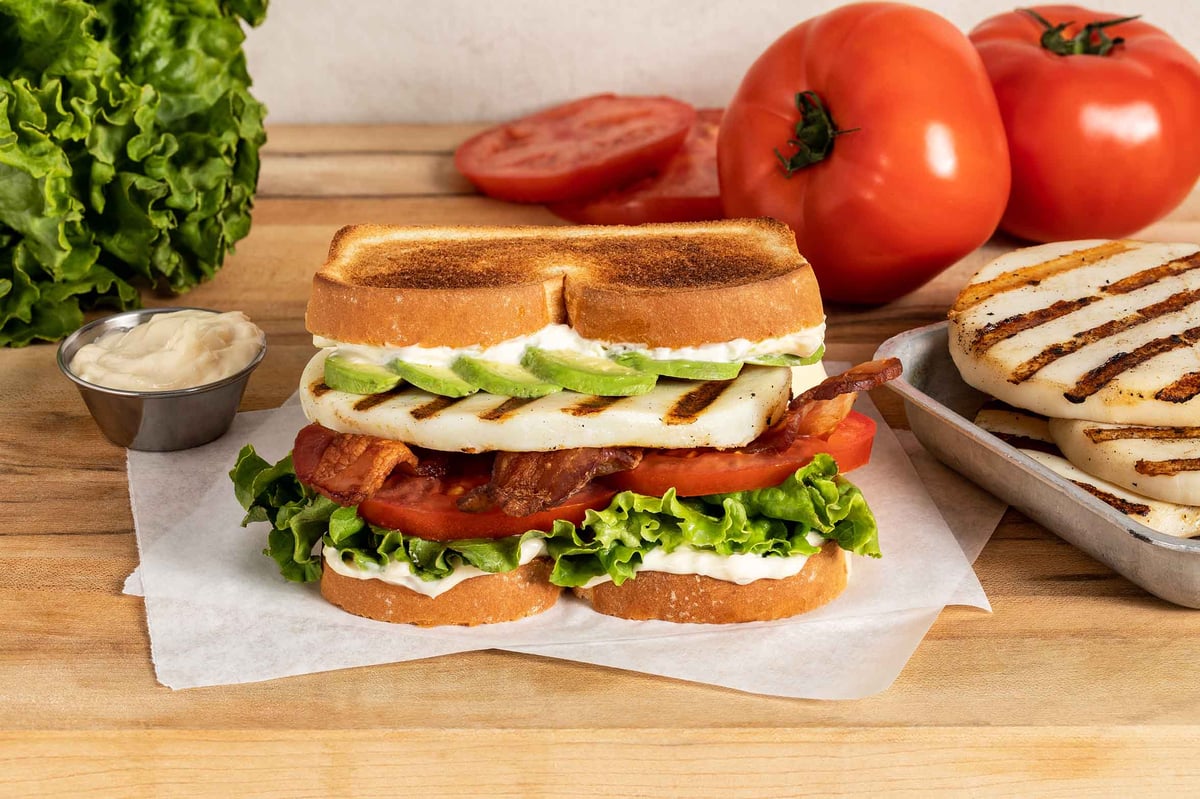 The smoked calamari BLT sandwich is a creative and delicious twist on the classic BLT. It's made with cold-smoked calamari steaks, fresh tomatoes, lettuce, bacon, and avocado. The smoked calamari gives the sandwich a unique flavor that is both smoky and savory. The tomatoes and lettuce add a touch of freshness, while the bacon and avocado add richness and creaminess. This sandwich is the perfect way to enjoy the end of summer.
Why do we think this is the best seafood BLT recipe for late summer? Well, if you grow your own tomatoes, you probably have plenty and know that an heirloom tomato BLT is heavenly. Our ingredients list a beefsteak tomato, since that's most common to find in a store, but f eel free to substitute your preferred tomatoes here.
Speaking of substitutions, we list a country-style white bread, we if you prefer, consider swapping it out and enjoying this as a sourdough bread BLT sandwich recipe instead. If you're looking for something carb-conscious, after cooking, you can cut the calamari steaks into strips, ditch the bread, and make this a lettuce wrap BLT sandwich recipe. After all, calamari is low in fat, high in protein, and contains omega-3 fatty acids, making it heart-healthy protein option..
While it's optional, we also add avocado to this sandwich. The added creamy avocado with the crunchy bread and smoky calamari makes this avocado BLT sandwich recipe hard to beat!
If you don't have a smoker, you can skip the cold smoke stage and go right for grilling. It's still delicious!
Remember, our calamari steaks are available at Whole Foods nationwide. Don't see them? Ask! They should be in stock in the frozen seafood section. Need to find a store? Go to our calamari finder to search by zip code.
How to Make a Smoked Calamari Avocado BLT
Prep time: 10 minutes
Cook time: 15 minutes
Ready in: 25 minutes (plus brining time)
Serves: 4
Ingredients:
For steaks:
4 The Town Dock Calamari Steaks, thawed
4 cups water
1/4 cup kosher salt
3 tbsp. soy sauce
1/4 cup brown sugar
Olive oil, for brushing grates
For aioli and assembly:
1/2 cup mayonnaise
2 cloves garlic, minced
8 slices country-style bread, toasted
4 leaves green leaf lettuce
1 beefsteak tomato, sliced into rounds
8 slices thick-cut bacon, cooked
1 avocado, peeled, pitted, sliced thin
Preparation:
1. For steaks: Whisk water, salt, soy sauce and brown sugar together in a large bowl until sugar and salt dissolve. Add calamari, and cover with plastic wrap. Brine for at least 30 minutes to 1 hour. Remove calamari from brine.
2. Prepare a smoking gun with applewood chips. Cold smoke calamari in stovetop smoker or large baking dish fitted with a wire rack, covered with plastic wrap for about 5 to 10
minutes. (Tip: Alternatively, prepare a smoker with applewood chips. Cold smoke calamari at 80°F for about 45 minutes to 1 hour.)
3. Preheat grill or grill pan to medium-high heat and oil grates. Grill calamari until golden-brown, 2 to 2-1/2 minutes on each side.
4. For aioli and assembly: Combine mayonnaise and garlic in a small bowl. Spread mayo mixture over 4 slices of bread. Top slices with lettuce, grilled calamari, tomato, 2 slices of bacon, avocado, and remaining slices of bread. Serve and enjoy!