Recipe: AJ's Calamari Salad
Want to bring an exciting new dish to your next holiday party? Looking for a tasty new recipe to try in 2013?
Bring in the New Year with our delicious Calamari Salad! Created by our own Aaron Ferri, aka Chef "AJ", this squid recipe has become a favorite here at Town Dock. It's quick, easy to prepare and a unique take on a traditional seafood salad that's sure to impress friends and family.
Try it today, and let us know what you think!
AJ's Famous Calamari Salad
Ingredients
2.5 pounds The Town Dock Tubes & Tentacles calamari, thawed (tentacles are optional; cut tubes into rings or bite size pieces)
2 lemons, juiced (cut in half, remove seeds)
½ cup olive oil
¼ cup white wine
1/8 cup red wine vinegar
1 tbsp. minced garlic
¼ red onion, diced
½ yellow pepper, diced
10 grape tomatoes, halved
2 tbsp. capers
1 tsp. Adobo seasoning
1 tsp. celery salt
1 tsp. Italian seasoning
Black pepper
Crushed red pepper to taste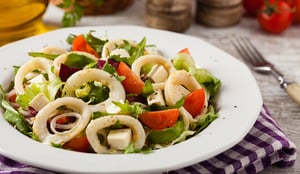 Preparation
Allow the calamari tubes to thaw slightly. Cut tubes into rings. Blanch the squid in salted (Sea Salt is recommended) boiling water for about a minute. (Tip: put the squeezed lemon halves in the boiling water to cut and neutralize any squid smell.) Drain and cool using ice cold water. Drizzle some of the vegetable oil into the squid and mix. Season with a little bit of celery salt and Italian seasoning; set aside.
Combine remaining ingredients together and mix well. Add in squid and mix again. Refrigerate for a minimum of four hours.
Serve & Enjoy!
To try more delicious calamari dishes, visit our Recipes page.