2023 Rhode Island Calamari Festival
A message from the Narragansett Chamber of Commerce: Due to the pending tropical storm, turning into a category 1 hurricane with the potential of sustained winds in excess of 38mph the Calamari Cook-off and music events on Friday, September 15 and Saturday, September 16, have been cancelled. There will still be a number of events that will still occur throughout town as part of Gansett Days. Please see the Gansett Days brochure on Facebook and the town website for more information.
The 2023 Rhode Island Calamari Festival is back for its seventh year, and it's bigger and better than ever! This year's festival will be held on Saturday, September 16, 2023, from 11 a.m. to 4 p.m. at Veteran's Park in Narragansett, Rhode Island. Again this year, The Town Dock will not only be donating calamari for the festival, but also competing in the cook-off and hosting a vendor table with squid swag and more information on where to get Rhode Island calamari and how to cook it at home.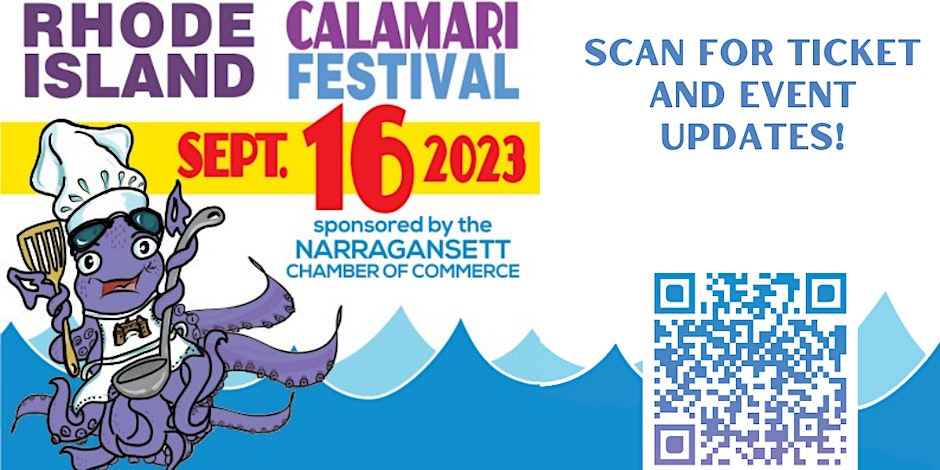 The festival will feature over 1,000 pounds of calamari from local restaurants, as well as a variety of other seafood dishes from all over New England. There will also be live music, a beer garden, and children's activities.
The calamari cook-off is the highlight of the festival, and this year's competition is sure to be fierce. Restaurants from all over Rhode Island will be vying for the title of "Best Calamari in Rhode Island." The judges will be looking for calamari that is cooked perfectly, has a crispy exterior, and a tender interior.
In addition to the calamari, there will be plenty of other seafood dishes to enjoy at the festival. You can try lobster rolls, clam cakes, fried clams, and more. There will also be a variety of non-seafood options available, such as pulled pork sandwiches, pizza, and ice cream.
The festival will also feature live music from local bands. The lineup for 2023 includes The Riptides, The Gravel Pits, and The Whiskey Charmers. There will also be a DJ spinning tunes in the beer garden.
The Rhode Island Calamari Festival is a great way to enjoy a day of food, music, and fun in beautiful Narragansett. Admission is free for children 12 and under, and tickets for adults are just $10. So come on down to Veteran's Park on September 16 for a day you won't soon forget!
You can learn more and buy tickets at https://narragansettcoc.com/event-calendar/ri-calamari-fest/