The Town Dock at the Charlestown Seafood Festival!
Charlestown Seafood Festival: A Celebration of Rhode Island's Finest Seafood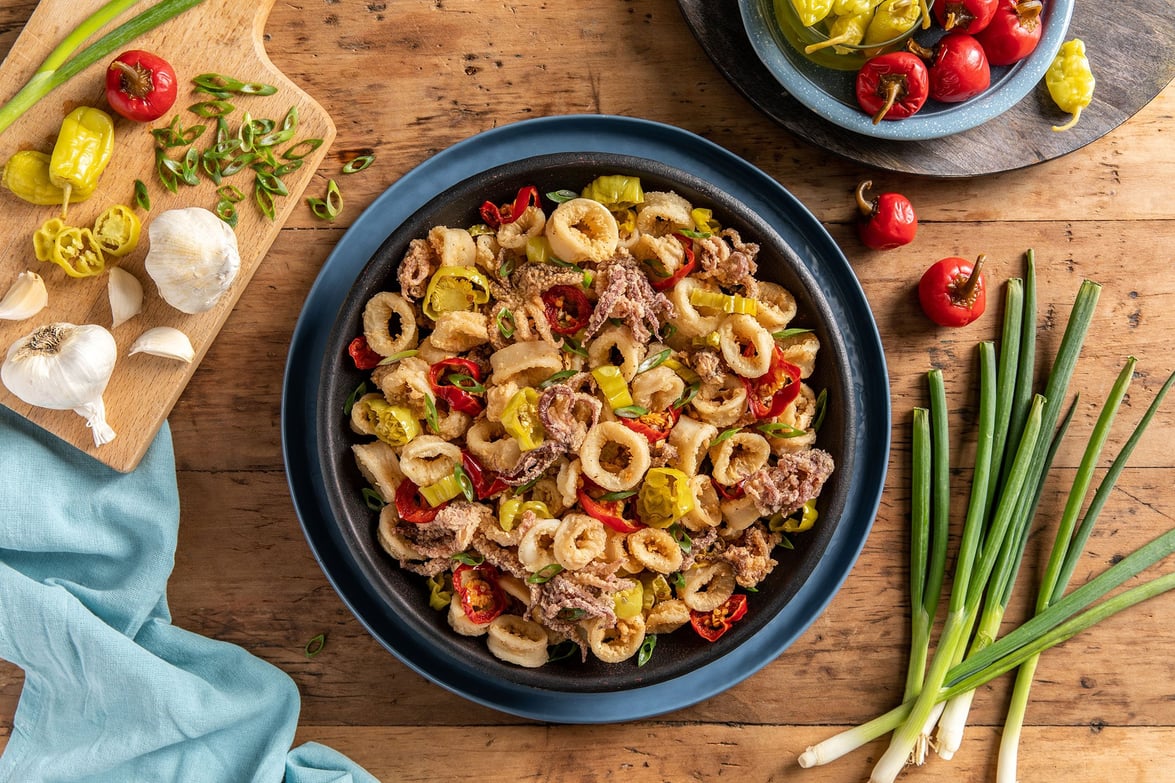 The Charlestown Seafood Festival is a three-day event that will be taking place August 4, 5, and 6, 2023, at Ninigret Park in Charlestown, Rhode Island. Again this year, The Town Dock's chefs will be serving up the very best of our locally-caught, locally-processed Longfin Inshore Squid. The festival features a wide variety of seafood dishes, live music, carnival rides, and more.
The Food
The food is the star of the show at the Charlestown Seafood Festival. The Town Dock is bringing back two of last year's favorites: our Rhode Island Style Calamari with hot peppers, garlic, and a side of marinara, and our Buffalo Style Calamari with blue cheese and a side of ranch. New for this year, we'll also be serving up a healthier, non-fried option: our refreshing Calamari Ceviche. We'll also have a few fun non-food souvenir items, because who doesn't love squid swag?
Once you've had your fill of our calamari, there are over 100 vendors serving up other local favorites like lobster rolls, clam cakes, fried seafood platters. You'll also find plenty of non-seafood options, like hamburgers, hot dogs, and pizza.
The Music
There's live music all three days of the festival, with a variety of genres represented. Past performers have included national acts, and every year features regional favorites. This year's entertainment include tributes to AC/DC, Journey, and more. Enjoy the live music while you watch fireworks Saturday night!
The Other Activities
In addition to the food and music, there are also a number of other activities at the Charlestown Seafood Festival. You can take a ride on the Ferris wheel, go rock climbing, or visit the arts and crafts fair. There's also a car show on Sunday afternoon.
Why You Should Attend
If you've wanted to try The Town Dock's calamari - or just want to enjoy it prepared by our own team of foodservice professionals - come on down! If you're a fan of seafood, live music, or just a good time, then you should definitely attend the Charlestown Seafood Festival. It's a great way to enjoy some of Rhode Island's finest seafood and have some fun in the sun and one of South County's iconic events.
Here are some tips for attending the Charlestown Seafood Festival:
Get there early.

The festival gets crowded, so it's best to arrive early to avoid the lines. The busiest times are Friday and Saturday night, and early Sunday afternoon. Coming during off-peak hours can reduce your wait times for vendors.
Wear comfortable shoes.

You'll be doing a lot of walking, so make sure you're wearing shoes that you can move around in.
Bring sunscreen.

The weather in August can be hot, so make sure you bring sunscreen to protect yourself from the sun.
The Charlestown Seafood Festival is a great way to experience the best of Rhode Island, including the best of Rhode Island's Calamari! So come on down and enjoy some delicious seafood, live music, and all the fun of the fair!
Learn more about the schedule, tickets, and pricing at: https://www.charlestownseafoodfestival.com/