Here in Rhode Island, we're at the end of week five of our work-from-home directive from our Governor. It's no secret to anyone – especially those in the foodservice or fishing industries – that it's a difficult time. We're feeling the economic downturn alongside our customers, partners, and friends.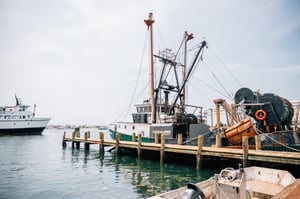 Back in March, The Town Dock marked its 40th anniversary. It's a hard time to celebrate – and indeed, like so many things, our planned celebrations were all shifted to the fall. But we think that it was worth marking the milestone because of what it says about us as a company.
Over the decades, we have been through times before. And just like before, our teams are seeing us through. Teamwork is one of our Core Values and it is being exemplified every day by our employees, who are pitching in and making it work even when it seems impossible. Like everyone else, they're logging in from home when they can. We've had our share of video meetings with barking dogs, insistent children, and telling people that they're still on mute. Those who can't work at home have gone above and beyond to keep each other safe and comply with changing state and federal regulations. It's not always easy, but we move forward.
We continue to take orders of both our foodservice calamari and our retail calamari. In fact, while other meat industries are experiencing supply chain disruptions, calamari remains readily available. Availability, combined with being both cost-effective and versatile, makes calamari an alternative protein ready to rise to the growing need.
If you follow us on social media, you've seen that we've been posting recipes for retailers to share with their customers as well as unique take-out options for restaurants. It's a small thing, but we hope they're helpful during this time.
When this all began, you heard from many companies about their manufacturing protocols, employee policies, and other updates. Look: one of our Core Values is Doing the Right Thing. So we were following Good Manufacturing Processes (GMPs) long before this epidemic. Our employees had paid sick leave long before this epidemic. We didn't advertise it, because we believe that that is what you expect from us. And you should.
We plan to keep on exceeding your expectations in and beyond these challenging times. We hope you and your employees, customers, families, and friends all stay safe and healthy. And don't hesitate to reach out – even if it's just to say hello.