The Town Dock at the 2023 Women's Summit
The 26th annual Bryant University Women's Summit, the premier leadership event for women in Rhode Island, was held March 16, 2023. Again this year, we were thrilled to send a few of The Town Dock's amazing women to this opportunity to listen, network, and live our core value of Continuous Learning and Improvement.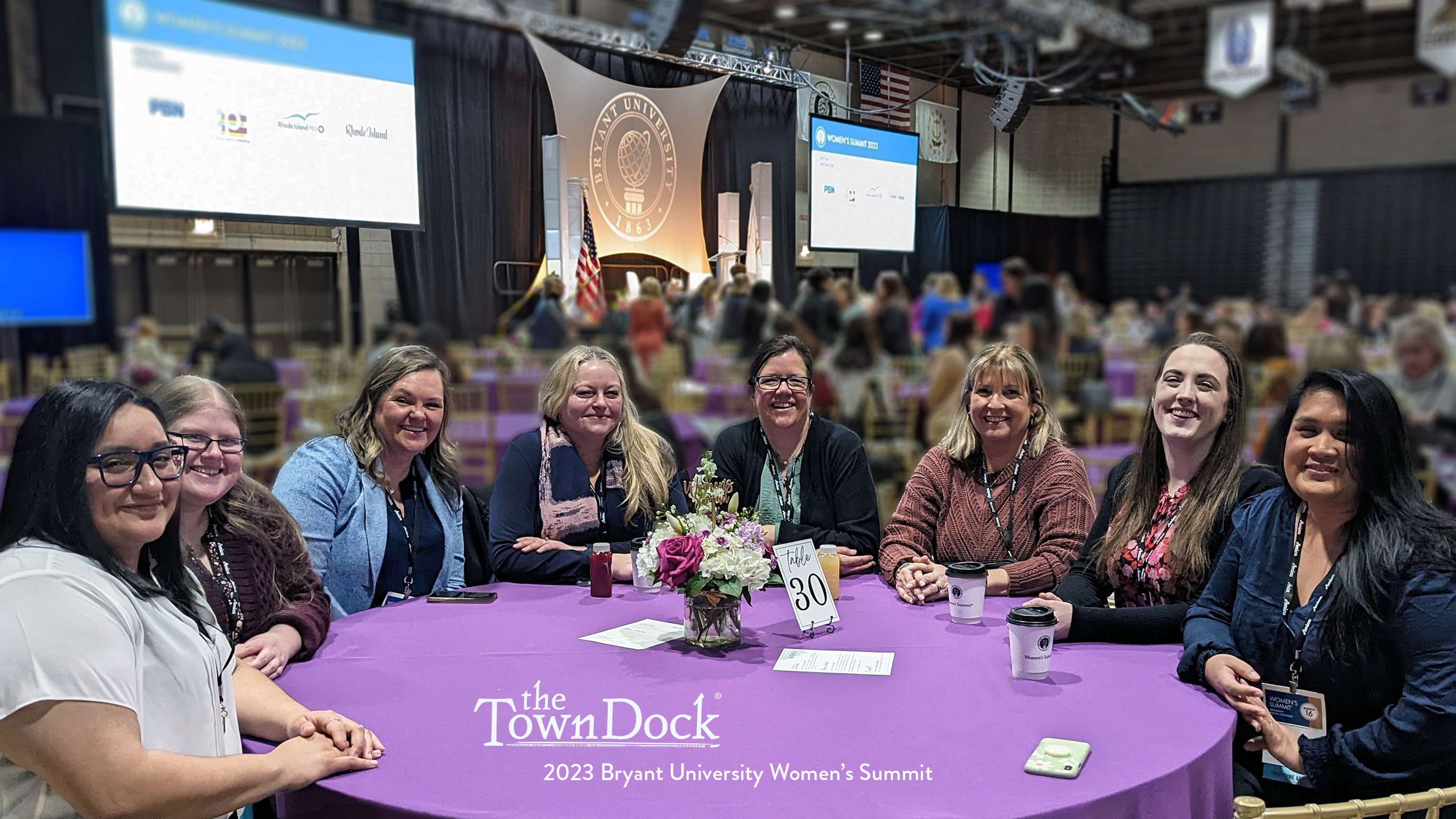 Pictured left to right: Joana Ortega, Operations Supervisor; Mallory Perry, Quality Control Technician II; Holly Brennan, HR Generalist; Meghan Leonard, Director of Supply Chain; Linda DesRoches, Data Coordinator; AnneMarie Ricci, Executive Assistant to CEO; Kyla Murray, International Logistics Coordinator II; Melanie Robichaud, Regulatory Coordinator.
The summit is an all-day event, starting with a networking breakfast. The morning keynote speaker was Sally Helgesen, cited in Forbes as the world's premier expert on women's leadership. She discussed women in the workplace: what we are good at (such as building relationships) and where we can improve (like leveraging those relationships for our careers). She gave strategies for self-promotion, mentorship, and more. It was an overall excellent discussion on critical workplace skills.
Afternoon keynote speakers started with Dr. Darria Long, a Harvard and Yale-trained practicing Emergency physician, Clinical Assistant Professor at the University of Tennessee School of Medicine, and international TV contributor and regular on CNN, NBC, Netflix, and other outlets. She discussed work-life balance and the crazy busy lifestyle that many women adopt in their attempt to "have it all." She discussed this mentality, her recent women-focused burnout study, and her own personal experiences. She offered excellent advice on managing this difficult balance.
The final keynote speaker of the day was Beverly Johnson, the first African-American supermodel. She made history as the first African American to grace the cover of Vogue magazine in August 1974, shattering a glass ceiling in the world of beauty and fashion. She told often funny and very personal stories of her life and career, and spent quite a bit of time answering questions and offering advice to the audience about navigating spaces (and board rooms) that are still often dominated by white men.
In between the keynote speakers, break-out sessions covered topics like building client relationships; networking and self-promotion; leadership; diversity, inclusion, and equity; and sustainability.
It was a long and busy day full of opportunities. The Town Dock attendees were excited to have this event return to a fully in-person experience, and look forward to attending again next year and beyond.