March Foodshows Are Coming!
March is a busy month for The Town Dock! As our foodservice and retail products are customer favorites coast-to-coast, we attend major food shows on both side of the country: Seafood Expo North America in Boston, Massachusetts, and the International Pizza Expo in Las Vegas, Nevada.
Seafood Expo North America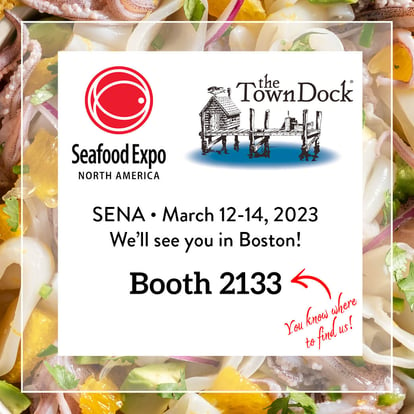 Every March, the seafood community looks forward to Seafood Expo North America (SENA) - and The Town Dock is no exception.
For 2023, the dates are Sunday, March 12 through Tuesday, March 14; the event begins at 10 a.m. each day, running until 5 p.m. Sunday and Monday and 3 p.m. on Tuesday. We'll be exhibiting in our usual booth space: booth 2133.
Often just called the Boston Seafood Show, it's only appropriate that this event is held in Boston's Seaport District. The Boston Convention and Exhibition Center on Summer Street houses suppliers from 50 countries under one roof!
This event is for seafood buyers in every market category: retail, restaurant, catering, foodservice, and processing. It gives buyers the opportunity not only to meet a wide variety of suppliers, but also to sample a variety of products and gather important information to move their business forward.
Learn more about SENA at their website, or get ready with our quick video on How to Fry Calamari for Foodservice.
International Pizza Expo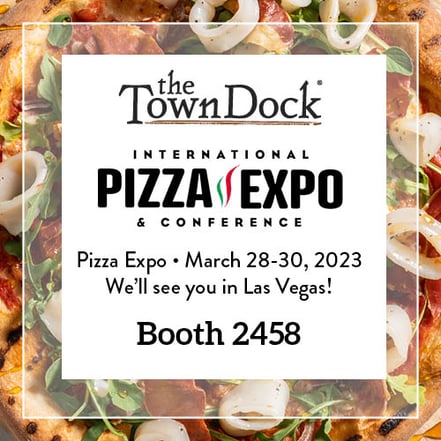 While The Town Dock hasn't been at the Pizza Expo for as many years as SENA, our calamari has developed quite a following among pizza lovers everywhere!
For 2023, the Pizza Expo runs from Tuesday, March 28, through Thursday, March 30, at the Las Vegas Convention Center. The Town Dock is exhibiting at booth 2458. The show floor is open at 10 a.m. each day, closing at 4:30 p.m. the first two days and 3 p.m. the final day.
Many pizza parlors have fryers and can make good margins with calamari. If they don't have this equipment? No problem! Stop by our booth and we can show off a variety of ways to incorporate this cost-effective protein onto any menu.
This event, now in its 39th year, is an undisputed industry leading event. With suppliers from across the globe, educational sessions taught by top industry professionals, and national competitions, this event is always the perfect combination of fun and educational!
Learn more about the International Pizza Expo on their website, and get in the pizza spirit with our Margharita Calamari Pizza recipe.