The Town Dock and G&C Foods Announce New Partnership
G&C Foods' reach and ease of ordering provides increased access to The Town Dock's market-leading calamari
FOR IMMEDIATE RELEASE: DECEMBER 5, 2022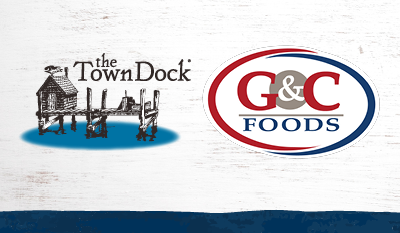 Narragansett, Rhode Island and Syracuse, New York --- The Town Dock and G&C Food Distributors are proud to announce their new business association to expand access to quality calamari for foodservice professionals.
G&C Food Distributors is among the most respected foodservice redistributors of refrigerated, frozen, and dry food products, delivering to 28 states. They are pleased to now offer a selection of The Town Dock's frozen calamari products as part of their next-day delivery program:
Current G&C customers can order The Town Dock's calamari now.
Not a current G&C customer? Contact The Town Dock directly for orders or help finding a distributor near you.
Ben Humes, Director of Seafood
G&C Foods
bhumes@gcfoods.com 215-233-6709

John Litton, Regional Sales Manager, New York Metro The Town Dock
jlitton@towndock.com 845-901-2195

Michael Vitale, Regional Sales Manager, New England The Town Dock
mvitale@towndock.com 603-969-0658
G&C Food Distributors
Syracuse, New York
Incorporated in 1976, G&C Food Distributors is a Food Service and Retail Re-Distributor of refrigerated, frozen and dry food products headquartered in Syracuse, NY. G&C has grown to be one of the most respected re-distributors in the Eastern half of the United States, delivering to 28 states and exporting to Latin America. www.gcfoods.com
The Town Dock
Narragansett, Rhode Island
For more than 40 years, The Town Dock has focused on offering both the highest quality wild-caught calamari and the very best service. A market leader in both foodservice and retail calamari, we are a vertically integrated seafood company located on the water in Point Judith, Rhode Island. We partner with a dedicated fleet of fishing vessels, local fishermen, and global suppliers, and provide the calamari expertise that guides our customers in making the best decisions for their unique businesses. www.towndock.com