The First Annual Town Dock Golf Tournament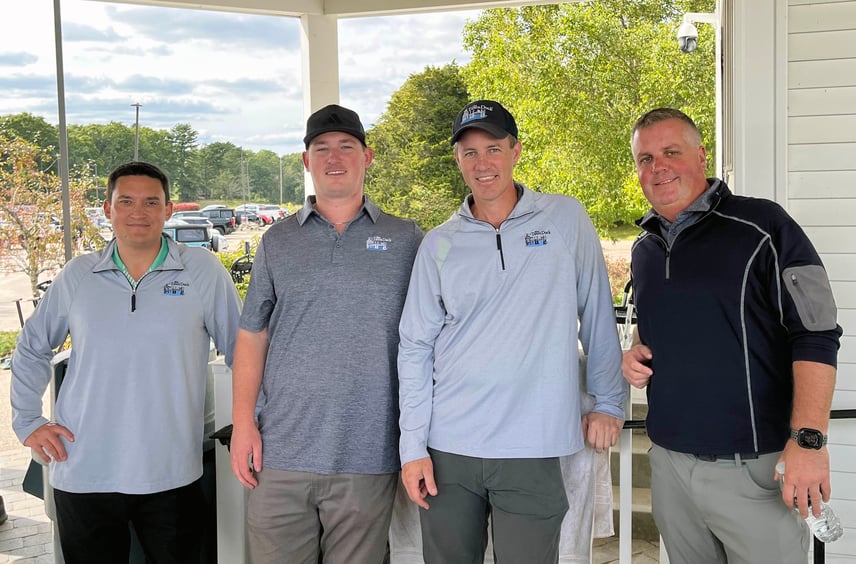 Pictured at our 2022 Golf Tournament, left to right: Justin Hamilton, Vice President of Sales; Sean Healy, Demand Planner; Ryan Clark, President & CEO; Jonathan Huot, Chief Financial Officer.
The Town Dock was excited to partner with local businesses, fishermen, and community members to host the First
Annual Town Dock Golf Tournament
on September 30, 2022.
The event supported the Point Judith Fishermen's Memorial Scholarship Fund, which provides educational assistance in the form of scholarships to high school seniors and families in the fishing industry who desire to further their education and reside in the South Kingstown/Narragansett area.
This year's tournament hosted 36 teams from local business, fishermen, and community members. Participants enjoyed not only a beautiful day of golf, but also raffles, chowder, dinner, and even lobster rolls at the 14th hole. Local businesses donated dozens of raffle items, such as tee sponsorships, local photographs, tasty snack baskets, and gift certificates.
With the success of the tournament, The Town Dock
was able to make a substantial donation
to the scholarship fund to assist the youth in the fishing community.
We would like to thank all of our sponsors and donors, both the individuals, as well as the companies, including the below:
ANCHOR INSULATION
ARTURO JOE'S
BAGEL EXPRESS & DELI
BARLOW FISHERIES INC.
BEAUFORT INLET SEAFOOD INC.
BELMONT MARKETPLACE
B&J SEAFOOD
BONNET LIQUORS
CHAMPLIN WELDING
CHAMPLIN'S SEAFOOD DECK
CHASSE WELDING
CHESAPEAKE BAY PACKING
COAST GUARD HOUSE
COFFEE 'N BAGEL CONNECTION
COMPLETE SOURCING SOLUTIONS
CROSSWYNDS TRADERS
D'AMBRA CONSTRUCTION
DAVITT DESIGN BUILD
DiSTEFANO BROTHERS CONSTRUCTION
ERIN FISHERIES
FAIRHAVEN SHIPYARD COMPANIES
FIFTH & NINTH SOURCING
FUREY ROOFING
F/V ANNIKA SCARLETT
F/V ATLANTIC QUEEN
F/V CADENCE & BRENNAN
F/V ELLEN JUNE
F/V HOPEFUL
F/V PREVAIL
GANSETT WRAPS
GEORGE'S RESTAURANT
GLOBAL OUTDOORS
HAL'S GARAGE
J GOODISON & COMPANY
JERRY'S HARDWARE
JOSH EDENBAUM PHOTOGRAPHY
KLR ACCOUNTING
LUIGI'S RESTAURANT
LUXE FITNESS
MATUNUCK OYSTER BAR
MCGLADE FISHERIES
MELDGIE'S BONNET
MEWS TAVERN
MILTON CATERPILLAR
MOORESFIELD OYSTER FARM
NANA'S GELATO CAFE
NBX BIKES
PANCHO OMALLEYS
PELLY'S PLACE
PINK PINEAPPLE
POINT JUDITH ELECTRONICS
REIDAR'S TRAWL-SCALLOP GEAR
RHODE ISLAND ENGINE
RI PADDLE SPORTS
RI TROOPERS ASSOCIATION
ROBERT ANTHONY SALON
ROBERTS FULL STEAM FISHERIES
SCHWABBY'S WINE & SPIRITS
SEAFREEZE LIMITED
SEASIDE FUEL INC
SEA-TREK ENTERPRISES
SOUTH COUNTY SAND & GRAVEL
STEVE'S LANDSCAPING SERVICES
SUPERIOR TRAWL
SWEENOR BUILDERS
SYSTEM 4
TRAWLWORKS INC
TWO TEN OYSTER BAR
WEST MARINE