2022 Rhode Island Calamari Festival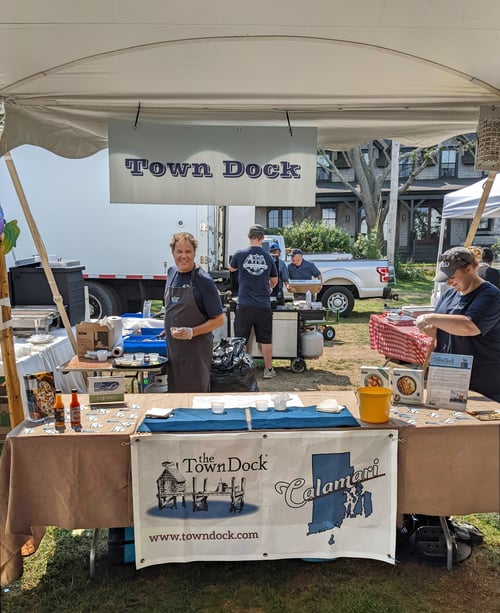 The first Saturday after Labor Day can feel like the end of summer - but not if you're under the tent, next to the beach in Narragansett! That's where The Town Dock was this past weekend for the Sixth Annual Rhode Island Calamari Festival. Hosted by the Narragansett Chamber of Commerce, this event features a Calamari Cook-Off Competition as well as a variety of fun vendors. This year, the event was held on Saturday, September 6, 2022, at Veterans' Memorial Park, which is across from Narragansett Town Beach and in the shadow of the iconic building, The Towers.
This year, The Town Dock competed in the Calamari Cook-Off for the first time! Competing against local restaurants, we decided to showcase the versatility of calamari and serve our longstanding favorite Calamari Ceviche recipe. We followed the recipe except that we grilled the calamari first, both for a little extra flavor and color, and also to ensure fully cooked batches throughout the busy afternoon. We served well over 1,000 tasting-sized portions of ceviche in just under four hours!
Despite such a unique offering - we were the only competitors who didn't fry their calamari - it was very well received. Many attendees grabbed our printed recipe cards so they could pick up the calamari at their local grocery store and try making the same dish at home.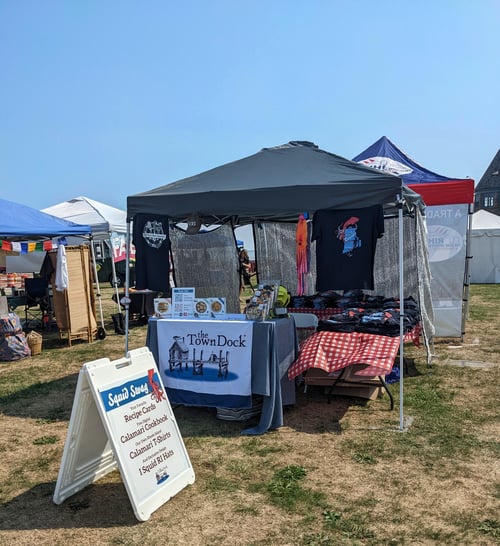 The Town Dock also set up a vendor booth, offering additional recipe cards, stickers, magnets, and our own in-house designed squid hats and t-shirts. They were a big hit! People also enjoyed talking to us about cooking calamari at home, where it was available in restaurants and grocery stores, local squid species, local landings, our main plant and docks up the street at the Port of Galilee, and more. We even got a request for cooking classes!
Despite the heat, it was a fun event. We love anything that involves a lot of delicious calamari and a good number of people in squid hats! Many thanks to our friends at the Narragansett Chamber of Commerce for holding this event and we look forward to the 7th Annual Rhode Island Calamari Festival in 2023!
Ready to get cooking? Visit our recipe blog today!