3 Unique Calamari Appetizer Recipes for Your Thanksgiving Dinner
Thanksgiving is a very unique time of year that allows people to embrace the feeling of gratitude and happiness for what is most important. We gather with our family and friends to reflect on the "here and now" while enjoying an atmosphere of togetherness around our favorite Thanksgiving dishes. We fully embrace these traditions at Town Dock and feel that sharing the experience of great food is a small piece of life we should continuously cherish.
For this Thanksgiving, we wanted to share 3 unique calamari appetizers for your family and friends to enjoy.
Quinoa Spinach Stuffed Calamari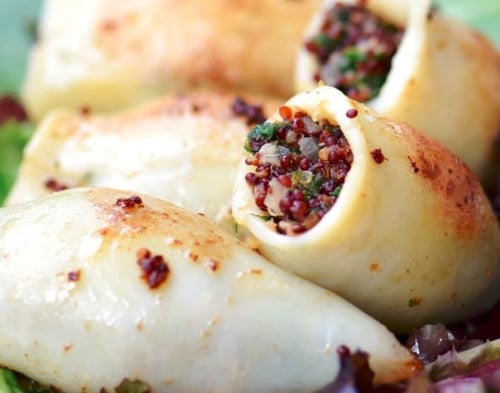 This Mediterranean dish comes packed with delicious herbs and vegetables and will certainly stand out as a great Thanksgiving appetizer.
Ingredients
2 tablespoons extra virgin olive oil
1 small onion, diced
1 pound fresh spinach, stems removed
1 cup cooked quinoa
1 cup quinoa
1 1/2 cups water or broth
1 1/2 cloves of garlic
1/2 teaspoon salt
2 tablespoons white wine vinegar
1/3 cup fresh parsley, chopped
1/4 cup fresh basil, chopped
1/2 teaspoon Sriracha (add more or less to your taste)
1 pound squid tubes - cleaned and dried
How To Cook Quinoa
Rinse quinoa in a strainer under running water until water runs clear and quinoa is free of grit and dirt.
Place clean quinoa in a pot and turn on low for 3-5 minutes. Stir to work off water and start to toast the grains.
Add water or broth, garlic and salt, and cover loosely with a lid.
Once a boil is reached, turn down the heat to low and keep a simmer for approximately 15 minutes or until the water has evaporated.
Take off heat, remove garlic, chop and place back in pot.
Add vinegar and allow to cool.
Once cool, you are ready to add the quinoa to the stuffed calamari recipe.
How To Cook Quinoa Spinach Stuffed Calamari
Place one tablespoon of olive oil in a warm pan over medium heat. Add the onion and sauté until translucent, about 5 minutes.
Add the spinach, quinoa, parsley and basil and stir until combined and spinach has wilted - about 1-2 minutes. Remove from heat and cool slightly.
Stuff each tube with the quinoa spinach mixture until nearly full, leaving 1/2" at the top to fasten a toothpick across.
Heat the other tablespoon of olive oil in a large saucepan and add the tubes to brown on all sides. Work in batches, flipping as you go, about 3-5 minutes or until the calamari is opaque. Serve immediately.
Sautéed Garlic Calamari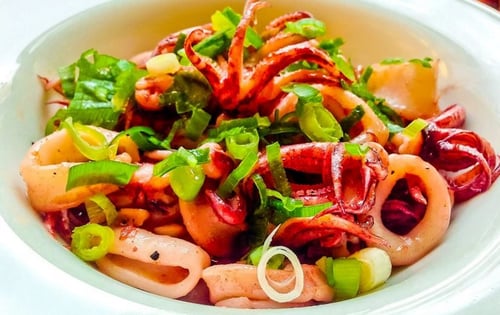 This sautéed dish adds a nice savory taste that will complement those Thanksgiving olives we always pick at before the actual Thanksgiving meal.
Just a side note to help prepare your Calamari, you must cook it for either a very short amount of time (sautéed or fried) or a long amount of time, stewed. Anything in the middle and you will get something very rubbery.
Ingredients
1 pound cleaned squid (a mix of bodies and tentacles)
2 tablespoons minced garlic
Extra Virgin olive oil
1 tablespoon chopped green onions
Kosher salt
Fresh cracked black pepper
How To Cook Sautéed Garlic Calamari
Rinse and pat dry the squid (a mix of bodies and tentacles). Cut the triangular bodies into 1/4-inch rings. Season with kosher salt and freshly ground black pepper.
Put approximately 2 Tbsp. olive oil into the hot pan. Oil should almost be smoking before adding the garlic to the hot oil. Sauté only 10 seconds or less, you don't want the garlic to overcook or turn brown or it will become bitter.
Once the garlic starts to sizzle steadily add the squid (only enough to cover the bottom of the pan). Make sure you have enough space and heat to cook the squid correctly. Cook, stirring constantly, until the color of the squid becomes opaque and the rings start to firm up; about 2 minutes.
Once cooked remove from heat and add another tablespoon of olive oil.
Honey-Sriracha Calamari with Pickled Peppers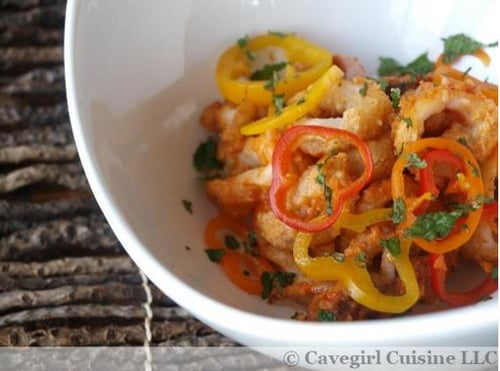 Our last unique appetizer features the distinctive zing of pickled peppers with the savoriness of pan-fried calamari.
Ingredients
Pickled Sweet Peppers:
8 sweet peppers, ends trimmed and cut into rings
1 cup water
1/2 cup apple cider vinegar
2 tablespoons pure maple syrup
3 cloves of garlic, halved pinch of crushed red pepper
1 teaspoon sea salt
2 teaspoons peppercorns
Pan-Fried Calamari:
1/2 pound squid (rings and/or tentacles)
2 eggs
1 tablespoon unsweetened almond milk
1/2 cup cassava flour (Otto's Naturals Cassava Flour works great)
1 teaspoon smoked paprika 1 teaspoon fine sea salt
1 teaspoon garlic powder
3 tablespoons avocado oil (or preferred cooking oil)
2 tablespoons Sriracha
1 tablespoon raw honey a small handful of mint leaves, chopped
How To Cook Honey-Sriracha Calamari with Pickled Peppers
Combine ingredients from the Pickled Sweet Peppers section. Cover and refrigerate for 24 hours.
Clean squid and set aside in a bowl of water while preparing everything else.
In one small bowl, whisk together eggs and almond milk.
In another small bowl, sift together flour, paprika, salt, and garlic powder.
In a medium bowl, whisk together honey and Sriracha. Set aside.
Drain calamari and dry by dabbing with a paper towel.
Heat oil on medium high heat in a large skillet.
Dip calamari in egg mixture and then dredge in the flour mixture.
Cook until calamari is browned and tender…just a minute or two per side. Don't overcrowd the pan or overcook (calamari will become rubbery). Do a test run to get your rhythm. Remove calamari to a paper towel lined plate.
Toss cooked calamari in the honey Sriracha blend.
Find all of these recipes and more at Yummly.com. All pictures are courtesy of Yummly.com.