Recipes: Jamie Oliver's Top 3 At Home Calamari Recipes
As a world-renowned British chef, Jamie Oliver is not only a champion of healthy, easy, and affordable cooking, he is also a seafood-lover. His global food health campaign has produced a variety of how-to videos, articles, and recipes for better ways to eat fish. Recently, his website featured an article on "why fish is healthy", which emphasizes the need for seafood's high protein, omega 3s, and vitamins in a balanced weekly diet. Calamari is the perfect, versatile ingredient that can be quickly prepared into a healthy main course that rivals poultry and beef. This week, we highlight Jamie Oliver's top 3 fresh squid recipes with unique flavors and exceptional nutritional benefits.
Chargrilled Whole Squid with Chilli & Mint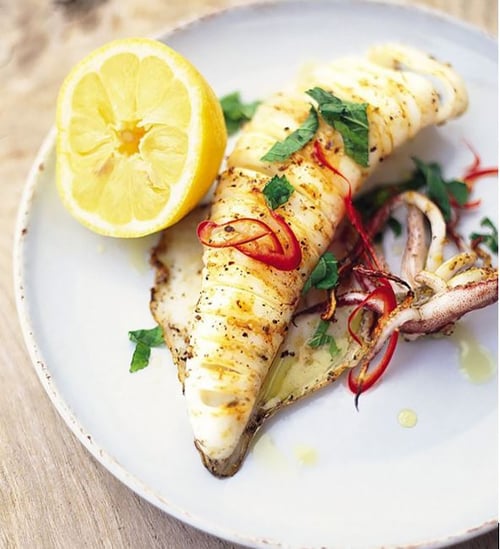 This meal is impressive in presentation and taste, but simple in preparation. Using the whole squid, there is less cutting and little waste. It contains the freshest ingredients combined in the healthiest way: chargrilled. Grilling foods is better than frying them in oil because it cuts down on fat. This nutritional benefit is clear in Jamie's chilli-mint squid with low saturated fat, sugar, and carbs, but high protein at almost 30g.
Ingredients
4 medium-sized whole squid with the wings left
1 tablespoon fennel seeds
sea salt
freshly ground black pepper
2 lemons' juice and zest
extra virgin olive oil
2-3 red chillies
1 handful of fresh mint
1 lemon for serving
For the full Chilli-Mint Squid recipe, cooking directions, and nutritional information, click here.
Roasted Concertina Squid With Grilled Leeks And A Warm Chorizo Dressing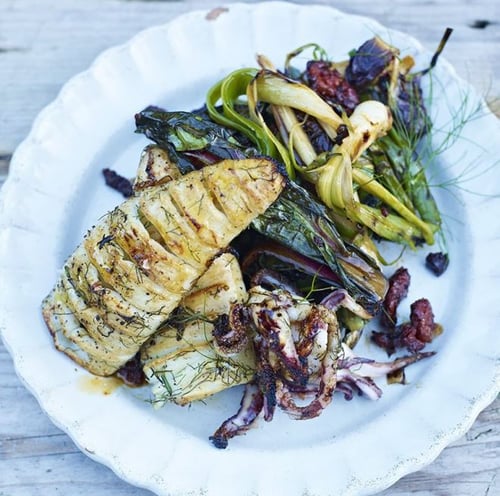 This recipe is an "explosion of spicy, intense flavors," proving that healthy foods don't have to taste bland. Low on carbs, sugars, and saturates but high on protein, this "bold" squid dish helps you spice up hard-to-cook leeks. It can be served for dinner in 35 minutes and kills two birds with one stone: veggies and fish all in one.
Ingredients
4 medium-sized squid, tentacles removed but reserved
8 baby leeks, outer leaves trimmed back
sea salt
olive oil
freshly ground black pepper
1 bulb fennel
1 radicchio
2 lemons squeezed
Chorizo Dressing Ingredients
100g iberico chorizo sausage
olive oil
1 sprig fresh rosemary
2 cloves garlic
3 tablespoons balsamic vinegar
1 lemon's juice
For the full Roasted Squid, Leaks in Chorizo Dressing recipe, cooking directions, and nutritional information, click here.
Chargrilled Squid With Rustic Guacamole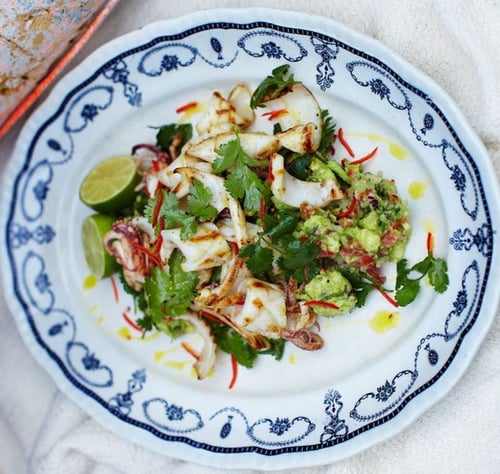 Jamie calls this "smoky" squid with "creamy" guacamole the perfect fresh salad—it's squid with a Mexican kick. This is a quick dish with an easy 30-minute prep and simple ingredients can be served for dinner at a party. Instead of the typical fast food alternatives, make this calamari platter for your next get-together and boast about its health benefits: nearly 20g of protein, low saturated fat, and essential unsaturated oils from the avocado.
Ingredients
2 x 150g squid and tentacles, tubes cleaned and kept whole
sea salt
freshly ground black pepper
extra virgin olive oil
½ lime's juice
Guacamole Ingredients
2 very ripe avocados
1-2 fresh red chillies
fresh coriander
½ red onion
1 tomato
2 limes' juice
For the full Squid & Guacamole recipe, cooking directions, and nutritional information, click here.