Calamari Linguine allo Scoglio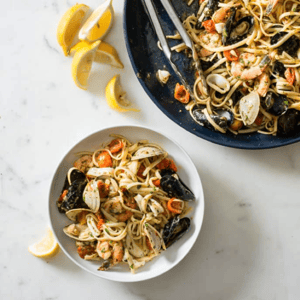 While we think calamari should be the star of every dish, there's no denying it also fits in perfectly with other seafoods! We love this dish from our friends at America's Test Kitchen, Linguine with Seafood (Linguine allo Scoglio), that lets the seafood flavors shine through.
TIME 1¾ hours - SERVES 6
WHY THIS RECIPE WORKS
To create a seafood pasta dish with rich, savory seafood flavor in every bite (not just in the pieces of shellfish), we made a sauce with clam juice and four minced anchovies, which fortified the juices shed by the shellfish. Cooking the shellfish in a careful sequence—adding hardier clams and mussels first and then adding the shrimp and squid during the final few minutes of cooking—ensured that every piece was plump and tender. We parboiled the linguine and then finished cooking it directly in the sauce; the noodles soaked up flavor while shedding starches that thickened the sauce so that it clung well to the pasta. Fresh cherry tomatoes, lots of garlic, fresh herbs, and lemon made for a bright, clean, complex-tasting sauce.
GATHER YOUR INGREDIENTS
6 tablespoons
extra-virgin olive oil
12 garlic cloves, minced
¼ teaspoon red pepper flakes
1 pound littleneck clams, scrubbed
1 pound mussels, scrubbed and debearded
1 ¼ pounds cherry tomatoes, half of tomatoes halved, remaining tomatoes left whole
1 (8-ounce) bottle clam juice
1 cup dry white wine
1 cup minced fresh parsley
1 tablespoon
tomato paste
4 anchovy fillets, rinsed, patted dry, and minced
1 teaspoon minced fresh thyme
Salt and pepper
1 pound linguine
1 pound extra-large shrimp (21 to 25 per pound), peeled and deveined
8 ounces squid, sliced crosswise into 1/2-inch-thick rings
2 teaspoons grated lemon zest, plus lemon wedges for serving


INSTRUCTIONS
Heat 1/4 cup oil in large Dutch oven over medium-high heat until shimmering. Add garlic and pepper flakes and cook until fragrant, about 1 minute. Add clams, cover, and cook, shaking pan occasionally, for 4 minutes. Add mussels, cover, and continue to cook, shaking pan occasionally, until clams and mussels have opened, 3 to 4 minutes longer. Transfer clams and mussels to bowl, discarding any that haven't opened, and cover to keep warm; leave any broth in pot.
Add whole tomatoes, clam juice, wine, 1/2 cup parsley, tomato paste, anchovies, thyme, and 1/2 teaspoon salt to pot and bring to simmer over medium-high heat. Reduce heat to medium and cook, stirring occasionally, until tomatoes have started to break down and sauce is reduced by one-third, about 10 minutes.
Meanwhile, bring 4 quarts water to boil in large pot. Add pasta and 1 tablespoon salt and cook, stirring often, for 7 minutes. Reserve 1/2 cup cooking water, then drain pasta.
Add pasta to sauce in Dutch oven and cook over medium heat, stirring gently, for 2 minutes. Reduce heat to medium-low, stir in shrimp, cover, and cook for 4 minutes. Stir in squid, lemon zest, halved tomatoes, and remaining 1/2 cup parsley; cover and continue to cook until shrimp and squid are just cooked through, about 2 minutes longer. Gently stir in clams and mussels. Remove pot from heat, cover, and let stand until clams and mussels are warmed through, about 2 minutes. Season with salt and pepper to taste and adjust consistency with reserved cooking water as needed. Transfer to large serving dish, drizzle with remaining 2 tablespoons oil, and serve, passing lemon wedges separately.

Reproduced by kind permission of America's Test Kitchen
Copyright c 2018 America's Test Kitchen