Calamari & Seafood Risotto
Looking for something a little more traditional than our sweet & spicy calamari risotto? Our friends at America's Test Kitchen have you covered with this calamari and seafood risotto. We love how seafood-centric this dish is!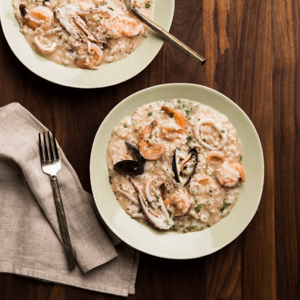 Seafood Risotto
SERVES 6 as a main course
WHY THIS RECIPE WORKS
For our seafood risotto recipe, we chose universally appealing shrimp, mild-tasting squid, and sweet, meaty scallops—small bay scallops were a perfect size. Chicken broth, even if diluted, overpowered the delicate flavor of the seafood so we chose instead to make a quick seafood broth by simmering the shrimp shells in a base of bottled clam juice and water, along with onion, carrot, peppercorns, bay leaves, and canned tomatoes. When it came to cooking the seafood for our seafood risotto, we found that stirring the shrimp, squid, and scallops into the risotto after it was fully cooked and allowing the mixture to stand, covered, off the heat resulted in flawlessly tender seafood every time.
GATHER YOUR INGREDIENTS
Quick Seafood Broth
1 onion, unpeeled and quartered through the root end
1 carrot, cut into 2-inch lengths
10 black peppercorns
2 bay leaves
½ teaspoon salt
Shells from 1/2 pound of shrimp (see below)
2 cups bottled clam juice
1 (14.5-ounce) can diced tomatoes, drained
Risotto
5 tablespoons unsalted butter
1 onion, diced fine
Salt
2 cups Arborio rice
Small pinch saffron threads
1 cup dry white wine
½ pound small shrimp (about 40 per pound), shells (including tails) removed and reserved
½ pound small bay scallops
½ pound squid, bodies cut crosswise into 1/2-inch-thick rings, tentacles left whole
¼ cup roughly chopped fresh basil leaves
Ground black pepper
*
BEFORE YOU BEGIN
Tasters preferred this risotto as it is cooked in the Venetian style called all'onda—literally, "wavy." The lyrical name simply means that the risotto is looser in texture—loose enough to be poured from the pot. Feel free to cook it to the consistency you prefer, but take into consideration that as the seafood cooks, it releases juices that will loosen the final texture of the risotto. We like whole small bay scallops in this dish, but you can substitute larger sea scallops, cut into 1/2-inch dice.
INSTRUCTIONS
FOR THE BROTH: Combine all of the ingredients and 5 1/2 cups water in a large saucepan and bring to a boil over medium-high heat. Reduce the heat to medium-low and simmer for 15 minutes. Strain the broth through a fine-mesh strainer into another saucepan, pushing on the solids to extract as much liquid as possible. Discard the solids and return the saucepan to the lowest possible heat to keep the broth warm.
FOR THE RISOTTO: Melt 4 tablespoons butter in a 4-quart saucepan over medium heat. Once the foaming subsides, add the onion and 1/2 teaspoon salt and cook, stirring ­occasionally, until the onion is very soft and translucent, about 9 minutes. Add the rice and crumble the saffron threads with your fingers into the pot. Cook, stirring frequently, until the kernel edges are transparent, about 4 minutes. Add the wine and cook, stirring ­frequently, until the wine is completely absorbed by the rice, about 2 minutes. Add 3 cups warm broth and, stirring infrequently (about every 3 minutes), simmer until the liquid is absorbed and the bottom of the pan is dry, about 10 to 12 minutes.
Add more liquid, 1/2 cup at a time, as needed to keep the pan bottom from drying out (every 3 to 4 minutes); cook, stirring frequently, until the grains of rice are cooked through but still somewhat firm in the center, about 10 to 12 minutes. Vigorously stir in the remaining 1 tablespoon butter until melted, then gently fold in the shrimp, scallops, squid, and basil. Cover the pot and remove it from the heat. Let stand until the seafood is cooked through, 5 to 6 minutes. Season with salt and pepper to taste and serve immediately in warmed shallow bowls.

Reproduced by kind permission of America's Test Kitchen
Copyright c 2018 America's Test Kitchen