The Secret to Crispy Pan Fried Calamari
One of the easiest ways to cook calamari, especially at home, is to sauté or pan fry. While a sautéing in a sauce can make calamari perfectly soft and tender (like the spicy red sauce in our tasty fra diavolo recipe), what do you do if you want some nice browning around the edges?
Because calamari releases liquid as it cooks, hoping that you'll get the crispy edges without some effort isn't going to get you very far! But the good news is that it isn't that much extra effort - all it takes is an extra pan.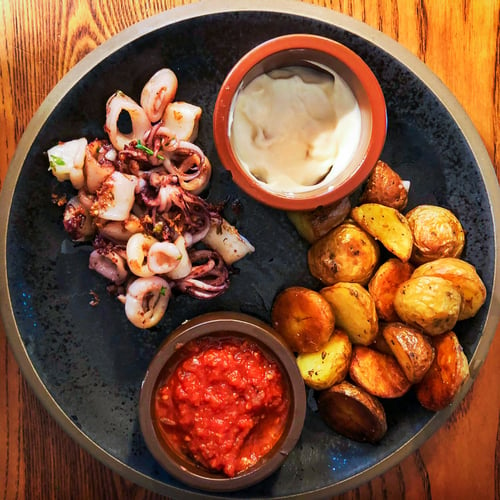 If you have cast iron pans, we definitely recommend using one or both. But if you don't, any sauté pans should do the trick. It also helps if you pat the calamari dry before you start cooking and add a gentle sprinkle of salt.
Pre-heat both sauté pans until they are very hot. Add about two tablespoons of olive oil to the first pan and cook the calamari for 2-4 minutes, until it has released most of its liquid. Then you'll want to carefully and quickly remove the calamari with a fork or slotted spoon.
Add olive oil to the second pan (if you have one cast iron pan, use it for this step!) and add the calamari without any of the liquid. Let it sear until it's browned to your preference.
Depending on your intended recipe, you can add garlic, parsley, banana peppers, or other herbs or spices to the second pan and toss in the olive oil before you add the calamari.
We love the versatility of calamari, and we love how well this cooking method holds up in almost any recipe. Our suggestions? Roast some potatoes and serve with dipping sauces for a simple but delicious a la plancha-style dinner (pictured!). We love the extra flavor that the sear brings to our cold calamari salad, or you can toss the calamari in your favorite hot sauce and add them to these calamari tacos. And if you're craving your restaurant favorite, make our Rhode Island Style calamari a little bit healthier by using these this instead of breading and deep frying the rings.
Thanks to Leite's Culinaria for inspiring this cooking method!