With international travel still off the table, we thought we'd live vicariously through calamari dishes from around the world. First up: Madrid, Spain, and the bocadillo de calamares.
The Spanish tradition of tapas has certainly arrived in the United States. The small snacks, often built around breads and meats (especially the famous jamón and manchego), have become almost iconic as a way to share an experience and try a variety of new flavors.
But a long-standing favorite of the Madrileños is a simple calamari sandwich. It's so popular that there are places just outside the Plaza Mayor that serve little else. And the bocadillo de calamares really is as simple as they come: a baguette, fried calamari rings, and perhaps a squeeze of lemon.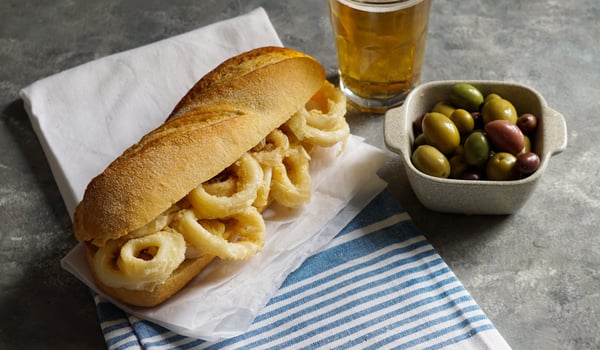 There are regional variations all over Spain, of course. Some add mayonnaise, spicy sauce, garlic aioli, or olive oil. Some bend to the American's tourists affinity to add ketchup or marinara sauce. But traditionally, it's three ingredients, max.
But as chefs know, sometimes quality ingredients and simple flavors can make something that seems very ordinary into something very magical. There's something enchanting about a fresh-baked roll, plus the calamari caught off the coast, and deep-fried in oil from Spanish olives - simple can be incredible delicious. Try it at home for a taste of Spain, or cut into smaller portions for your restaurant's appetizer menu.
Recipe
Yields: 2 hearty sandwiches
1 lb The Town Dock Calamari Rings (with tentacles, if you like)

2 baguettes or sub rolls

3/4 cup breading mix (we like Fis-Chic Wonder Batter; all-purpose flour with salt and pepper will work; some Spanish chefs swear by a 1:1 mix of flour and chickpea flour)

Vegetable oil for frying

Lemon wedges

Optional: Mayonnaise (add a clove of crushed garlic or capers for an extra kick) or olive oil for dressing
Directions
Begin heating vegetable oil in a heavy skillet on medium-high heat. Coat pan with about ¼ inch of oil.
If needed, cut calamari tubes into ½ inch rings and trim tentacles. Add calamari to the flour and evenly coat. Shake off excess flour.
Add half the calamari to skillet when oil is very hot. Cook until crisp and brown, approximately 90 seconds, turning once. Place on paper towel and cook remaining calamari.
Slice baguettes, and place half the calamari on each sandwich. Add a squeeze of lemon over the calamari rings.
If using, spread the mayonnaise or drizzle the olive oil on the other side of the sandwich. Close and enjoy with aceitunas or an ice-cold cerveza!