Recipe: Chicken-Fried Calamari Steak Sandwich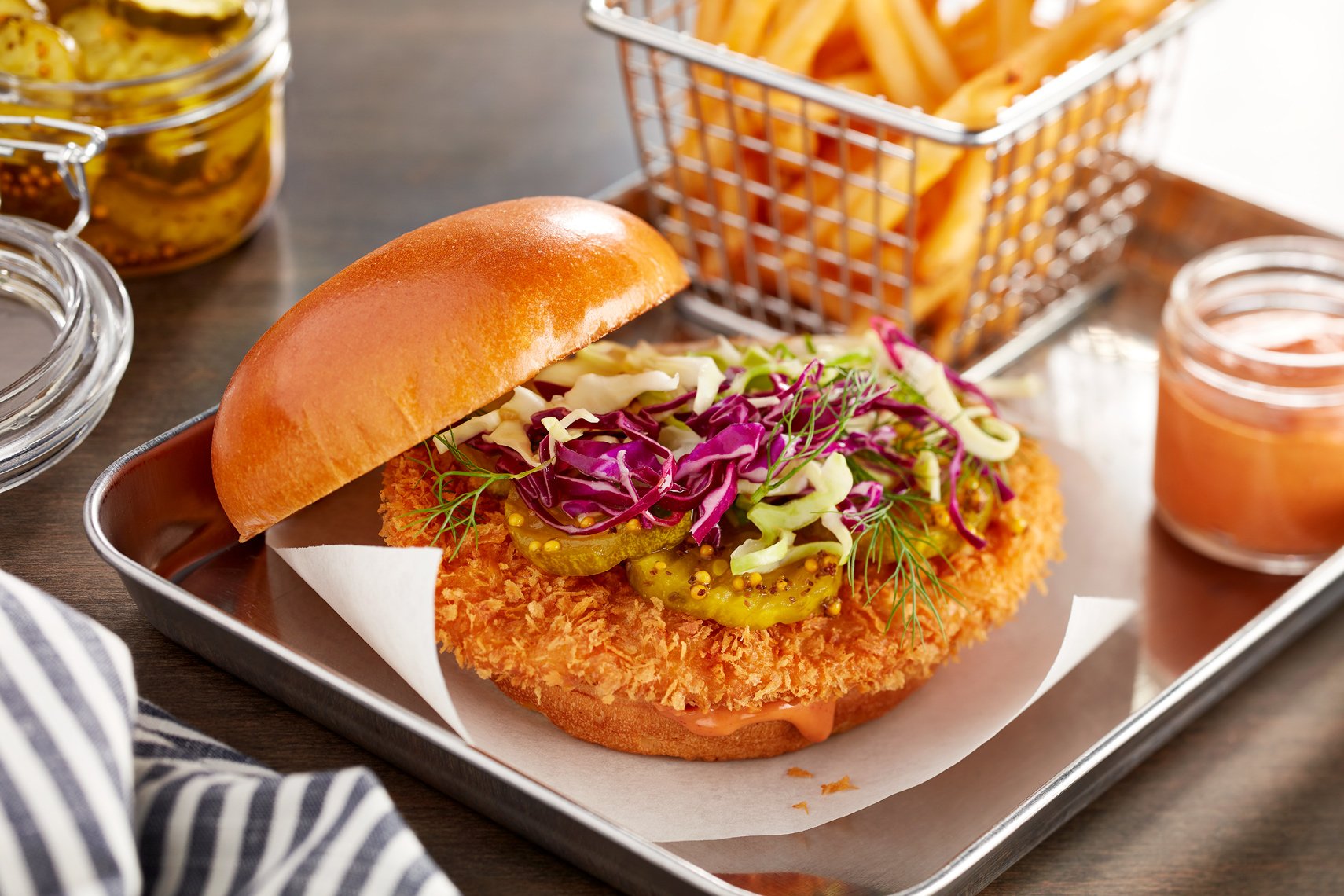 There's no denying that food can be a great way to soothe the soul. There's something about the warm dishes of the southern United States that especially inspire that cozy feeling.
Fried chicken is a superstar in the comfort food field, and chicken-friend steak isn't too far behind. So for this recipe, we've taken our Calamari Steaks and started with a southern-inspired chicken-fry. We've made a few modern twists with a panko coating and gochujang mayo, and kept it traditional with bread and butter pickles and a fresh lemon slaw.
This recipe is scaled for foodservice, but easy to cut back from 12 servings to 4 servings and pan fry instead.
Southern-Style Chicken-Fried Calamari Steak Sandwich
Calamari steak is fried to golden crispy perfection, topped with bread & butter pickles, spicy gochujang mayo and a fresh lemon slaw on a brioche bun.
Yield: 12 servings
Ingredients:
12 each (5 lb.) The Town Dock Calamari Steaks
4 large Eggs, beaten
4 cups Panko breadcrumbs
12 each Brioche buns, buttered and toasted
1¼ cup Bread and butter pickle slices
¾ cup Lemon vinaigrette, prepared
3 cups Cabbage slaw blend
Spicy Gochujang Mayo:
2 cups Mayonnaise
⅔ cup Gochujang paste
2 tbsp. Toasted sesame oil
Preparation:
Mayo: Combine all ingredients in a small bowl and stir. Cover and refrigerate until use.
Breading: Begin with setting up an assembly line with 3 shallow half hotel pans, paper towels and a full-size sheet pan. In the half hotel pans: calamari steaks in one pan; beaten egg in the second; panko in the third, seasoned with salt and pepper as desired. Place the full-size sheet pan, lined with clean parchment at the end to receive the breaded calamari. To bread each steak, pat dry on both sides with paper towel until no visible moisture. Submerge in egg then coat evenly on both sides with seasoned panko.
Cook: Deep fry at 375°F for 4–4½ minutes.
Assemble: Spread 1 tbsp. gochujang mayo on both top and bottom of brioche bun, layer bottom bun with 4 pickles, fresh fried calamari steak, ¼ cup slaw tossed with 1 tbsp. lemon vinaigrette, and close with top bun. Serve immediately.