Mushroom Dusted Fall Calamari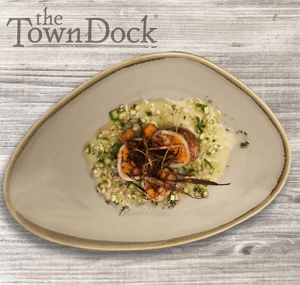 At The Town Dock, we are always, faithfully, two things: people who love squid, and people who love competition.
So it was no surprise when our recent Calamari Cook-Off drew incredible entries from all corners of the company. Cooking at home, team members submitted photographs and recipes of their creations, judged across several categories.
Just in time for Thanksgiving, we wanted to share our winner of our "Most Unique Recipe" category. Regional Sales Manager John Litton cooks up a stuffed calamari that embraces all the season, with flavors like squash, maple, and sweet potato. We loved stuffed calamari, but it's often stuffed with seafood or another type of meat (delicious, by the way), so he took home honors for this veggie-forward fall dish.
Depending on how many attendees you have, you can eyeball the quantities you need. Feel free to freestyle a little with the ingredients - it's hard to go wrong. Show off this appetizer to your friends and family on Zoom, and you'll not only enjoy it now, but you'll have to promise you'll make it in person next year, too!
Porcini Dusted Stuffed Fall Calamari
Rhode Island Calamari® stuffed with a fall sweet potato and butternut hash and served with a maple syrup vinaigrette and fried leeks.

Hash Stuffing
Ingredients:
Butternut squash
Thick cut bacon
Shallots
Sweet potatoes
Onions
Thyme

Directions:
Clean squash, potatoes, shallot, onions and leeks.
Skin onion and shallot and dice.
Cube butternut squash and sweet potatoes.
Dice bacon.
Set aside.
Fried leeks
Clean leek, remove end and green leaves.
Slice white portion into thinnest possible strips.
Rinse and set aside.
Maple syrup vinaigrette
Maple syrup
Shallot, small diced
Zucchini, small diced
Lemon juice
Extra Virgin Olive Oil
Mix all ingredients well, seeking a balance of acid and sweetness, and set aside.

Porcini mushroom coating
Take dried porcini mushrooms and spin in food processor until mushrooms are dust

Instructions
Preheat oven to 400°.
Add has ingredients - squash, potatoes, onions, and bacon - to a large pan coated in unsalted butter. Cook through in oven, turning part way through.
Add thyme to hash and mix well, breaking up bacon as needed.
Coat a roasting pan in olive oil.
Take thawed, rinsed squid tubes, and gently hold tube open and spoon in hash.
Dust with porcini mushroom powder.
Place in roasting pan and cook for 10 minutes.
Finely dice shallot, place in small bowl.
Take sliced leeks and quickly pan fry until brown and crispy.
Slice cooked calamari on bias (diagonally), removing small tip.
Place sliced calamari on plate and drizzle with shallot maple vinaigrette.
Top with crispy leeks and serve.