Crab Stuffed Calamari Over Pasta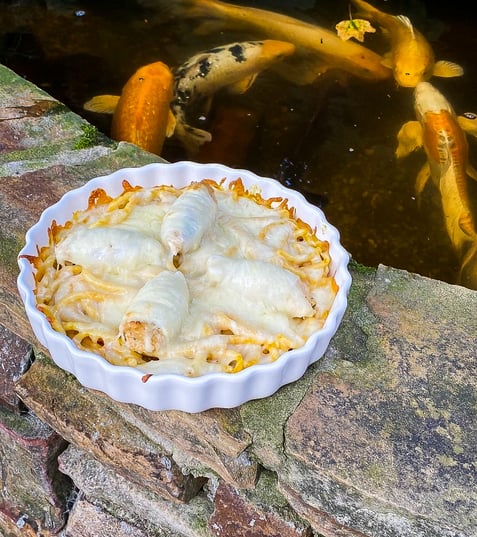 Calamari tubes - the long body meat of the squid, which is often sliced into rings - are perfect for stuffing. Because calamari has such a mild flavor, it's easy to shift the flavor profile one direction or another, based on your seasonal ingredients, restaurant concept, or personal preferences.
Our smaller Rhode Island Calamari® tubes are perfect for one- or two-bite appetizers, and larger tubes, like our Classic Calamari or Premium Domestic Calamari, make a hearty center-of-the-plate protein.
For this recipe (and photo), our Director of Retail, Roger, stuffed calamari tubes with crab cake mixture and used bucatini pasta with a pumpkin sauce as part of his Thanksgiving feast. But it can easily be made with a red sauce, alfredo sauce, vodka sauce, linguine, fettuccini, angel hair... whatever you enjoy.
This recipe has two hearty portions, but it is easy to scale up or down as needed.
Crab Stuffed Calamari Over Pasta
Prep time: 20 minutes
Cook time: 12 – 15 minutes
4 calamari tubes (whole)
6 oz. crab cake mixture
12 oz. long-cut pasta
2.5 cups pasta sauce
1 cup Mozzarella, shredded
½ cup Fontina or Provolone, shredded
½ cup Parmesan, shredded


Preheat oven to 400° F and bring a large pot of water to a boil.
Par-cooked pasta, cooking for half the time on the package. Drain and set aside.
Puncture calamari at the tip (point opposite opening) to avoid air pockets.
Gently stuff each tube with crab cake mixture. You can use a toothpick to hold closed if you wish.
Place par-cooked pasta and pasta sauce in an oven proof bowl and mix well to coat pasta - this ensures it doesn't dry out.
Place stuffed tubes on top of pasta.
Sprinkle cheeses on top to of dish, covering the calamari and pasta.
Bake at 400 degrees for 12-14 minutes, until cheese starts to brown.
Serve hot!