Recipe: Calamari, Chickpea, and Chorizo Salad
Calamari, Chickpea, and Chorizo Salad
We admit it: we're into calamari salads here at The Town Dock. Spicy chorizo and smokey charred peppers balance against creamy chickpeas and fresh seafood flavors.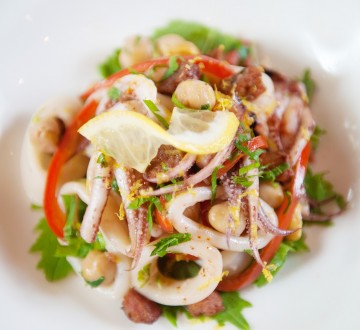 This recipe pan fries nearly all of the ingredients, including the calamari, so it's easy to make at home. You can also opt to grill many of the ingredients if you need some fresh air! Remember that calamari always cooks quickly, so plan to only grill calamari for about one minute per side. You can use a fish basket or a skewer rings and tentacles for easier handling on your grill, or grill tubes whole and cut into rings after.
For extra-tender calamari, marinate in buttermilk or lemon juice with olive oil for a few hours before cooking. It's worth a little planning head.
Ingredients
1¼ lbs cleaned Town Dock tubes & tentacles (sliced and tentacles kept whole)
1 can of chickpeas, rinsed and drained
1 red pepper
A bunch of parsley, roughly chopped
1 red chilli, deseeded and chopped
1 clove of garlic, finely chopped
7 tablespoons olive oil
½ lb chorizo sausage, cut into chickpea-size chunks
Juice and zest of 1 large lemon
Salt and pepper
Preparation
Cook the pepper whole under a grill, until completely charred.
Place the charred peppers in a plastic bag and leave to cool. Peel and slice into strips.
In a large bowl, mix the peppers, chickpeas, parsley, chilli and garlic. Heat a large frying pan until hot, add a splash of olive oil and fry the chorizo until crisp, then add to the peppers.
Fry the calamari in the same pan for 1 minute.
Add to the peppers, then dress with the remaining oil, lemon juice and zest.
Mix together and serve.
Servings: 4