Spicy Calamari & Sweetcorn Risotto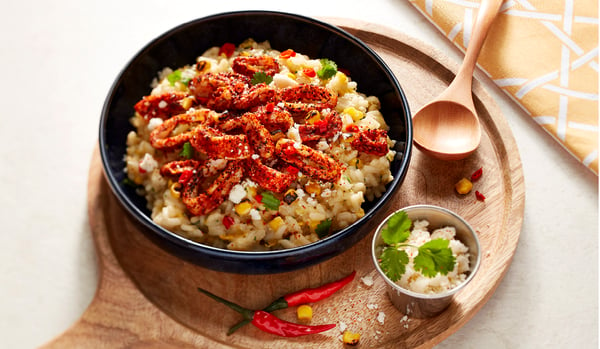 Is there anything better than spicy and sweet?
Tajín seasoning and chile peppers give calamari a kick, and the smooth sweetcorn and cilantro cool it down. It's an interesting combination of familiar, Mexican-inspired flavors, but presented with a classic Italian rice dish, and roasted calamari.
Yes, in this recipe the calamari rings are oven-roasted! It's not the most common preparation, but incredibly quick and easy to cook in batches as needed.
Ingredients
2.5 lb. Calamari Rings
½ cup tajín seasoning
1 tbsp. black pepper
¾ cup chile peppers, thin sliced
¾ cup fire-roasted corn kernels
9 oz. cotija cheese, crumbled
12 each fresh cilantro sprig
Sweet Corn Risotto:
½ cup olive oil
1 cup shallot, minced
4 cups arborio rice
2 cups white wine, dry
1 ½ tsp. salt
1¼ gal. vegetable stock, steaming hot
2 cups fire-roasted corn kernels, partially pureed
½ cup fresh cilantro, finely chopped
½ cup butter, salted, cut into pieces
Preparation
Risotto: In heavy bottomed large rondeau, heat oil over medium heat. Add shallot and sauté for 6-8 minutes. Add rice and stir well to coat with oil. Sauté until rice becomes translucent around edges, about 5 minutes. Add wine and salt. Sauté until wine is completely evaporated. Reduce heat to medium-low and add hot broth in 6-oz. ladle increments, stirring constantly and allowing liquid to absorb fully before adding more, until rice is al dente and surrounded by fluid, about 25-35 minutes. You may not need all stock, the grains should be nearly tender and finished texture should be more of a liquid than solid. Remove from heat and stir in corn puree, cilantro and butter.
Cook: Season 3 oz. calamari rings with 2 tsp. Tajín and ¼ tsp. black pepper and stir to evenly coat. Place rings on wire rack over sheet pan, coated with non-stick spray, and roast in preheated 400°F convection oven for 4-5 minutes.
Assemble: Serve 1½ cups hot risotto topped with roasted calamari rings, 1 ½ tbsp. crumbled cheese, 1 tbsp. each: pepper slices and roasted corn kernels. Garnish with a cilantro sprig and serve immediately.