Recipes: Stuffed Calamari Recipes For Your Labor Day Weekend
With Labor Day just around the corner, we know your focus is already on the long weekend ahead. As you schedule plans for the Labor Day weekend, coming up with great recipes to cook can be a daunting challenge. If you're looking to break away from the traditional grilled foods like hot dogs and hamburgers, check out these easy-to-make stuffed calamari recipes for your Labor Day weekend.
Bread Crumb Stuffed Squid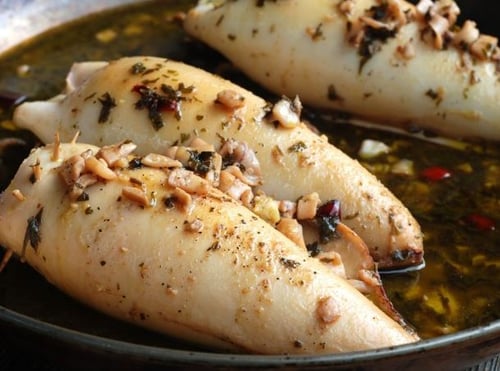 Total Time: 47 Minutes
Prep: 30 Minutes
Cook: 17 Minutes
Servings: 6
Ingredients
1 cup/250 ml bread crumbs
2 ounces/75 g spicy salami, cubed
2 ounces/75 g smoky scamorza cheese, cubed
1 cup/250 ml freshly grated Parmigiano cheese
Large bunch fresh flat-leaf parsley, leaves picked and chopped
1 whole egg
1/4 cup/50 ml extra-virgin olive oil
3 cups/750 ml white wine
6 medium squid, cleaned
2 cloves garlic
1 chile pepper, thinly sliced
1 pound/500 g cooked linguine, optional
Salt and freshly ground black pepper
**Special equipment toothpicks
Directions
For the stuffing:
Add the bread crumbs, salami, scamorza cheese, Parmigiano cheese, an egg, 1/2 the parsley, salt, and black pepper to a bowl. Add 1 tablespoon extra-virgin olive oil and 1/2 cup white wine. With your hands, thoroughly mix all the ingredients.
Gently stuff each squid with the mixture. Seal the opening with a toothpick. Continue until all the mixture is consumed.
In a large frying pan, heat the extra-virgin olive oil and add the garlic and the remaining parsley. Cook for about 1 minute on medium-high heat. Add the stuffed squid and cook until the meat starts changing color and becomes slightly golden. Add the wine, salt, and chile pepper. Lower the heat, cover the pan and allow the wine to reduce and thicken up. Allow to cook for 10 minutes.
Source: cookingchanneltv.com
Italian Stuffed Calamari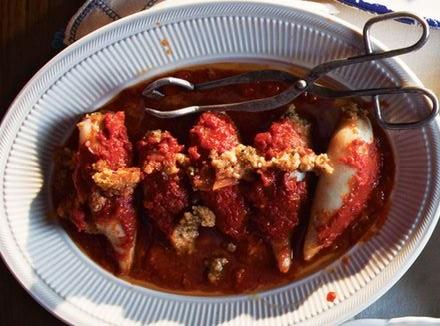 Total Time: 1 hour
Servings: 6-8
Ingredients
1⁄2 cup plus 2 tbsp. olive oil1⁄4 tsp. dried oregano2 cloves garlic, finely chopped
1⁄2 small yellow onion, minced
2 tsp. tomato paste
4 tbsp. red wine
1 bay leaf
2 tsp. balsamic vinegar
1⁄2 (28-oz.) can whole peeled tomatoes in juice, crushed
12 cleaned calamari
1 cup bread crumbs
1 cup finely grated pecorino
3 tbsp. finely chopped parsley
2 tbsp. finely chopped oregano
Kosher salt and freshly ground black pepper, to taste
Directions
Heat 2 tbsp. oil in a 4-qt. saucepan over medium-high heat. Add dried oregano, garlic, and onions; cook until soft, about 6 minutes. Add tomato paste; cook until caramelized, about 2 minutes. Add 3 tbsp. wine, tomatoes, and bay leaf, reduce heat to medium-low, and cook until thickened, about 20 minutes. Stir in remaining wine and vinegar; season with salt and pepper. Set sauce aside.
Heat oven to 350°. Heat remaining oil in a 10″ skillet over medium heat. Chop tentacles and add to skillet; cook for 1 minute. Remove from heat; stir in breadcrumbs, pecorino, parsley, and oregano. Season with salt and pepper. Stuff each calamari body half full with bread crumb mixture; place in a 9″ × 13″ baking dish. Pour sauce over calamari; bake until warmed through, about 30 minutes.
Source: saveur.com
Stuffed Calamari In Gravy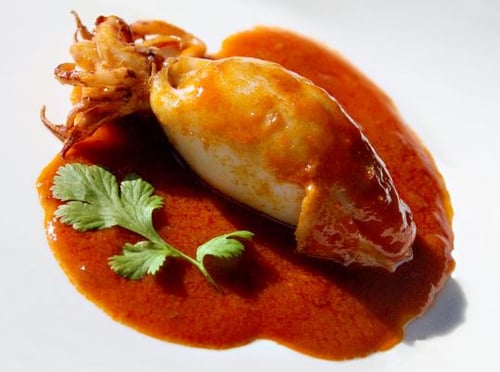 Total Time: 1 hour
Servings: 6-8
Ingredients
½ cups olive oil2 onions, finely chopped8 cloves garlic, chopped
1 tbsp. each chopped fresh oregano, basil, and marjoram
Salt and freshly ground black pepper
1 (28-oz.) can tomato sauce
1 (6-oz.) can tomato paste1 cup chopped fresh parsley2 cups fresh bread crumbs
⅓ Three-Cheese Mixture
2 eggs, beaten
2-3 lb. small squid bodies (3"-4"), cleaned
Directions
Heat half the olive oil in a heavy pot, and cook onions and 6 cloves garlic over medium heat until soft. Add oregano, basil, marjoram, and salt and pepper to taste. Cook for 5 minutes. Add tomato sauce, tomato paste, and 2 cups water. Simmer for at least 30 minutes, adding half the parsley when sauce is cooked. If you have the time you can simmer the sauce for as long as 4 hours, adding a bit more water if sauce thickens too much.)
Combine bread crumbs, cheese mixture, remaining garlic, 1⁄3 cup parsley, eggs, and salt and pepper to taste. Stuff squid with bread-crumb mixture, then secure tops with toothpicks.
Heat remaining olive oil in a large skillet and saute squid in small batches until browned on all sides, about 2-4 minutes. Drain on paper towels.
When all squid is cooked, add to tomato sauce and cook for 15 minutes longer. Garnish with remaining parsley.
Source: saveur.com