Hat Trick: We're A Best Place to Work for the Third Year!
Providence, Rhode Island -- For the third time in three years, The Town Dock has been honored by Providence Business News as one of Rhode Island's Best Places to Work!
"

I am grateful for the hard work of the team every day, and especially for the resiliency everyone has shown in the past few months
," said Ryan Clark, President & CEO of The Town Dock. "We know that The Town Dock would not be a best place to work without the team we have, whether they're on the dock, in the office, or working remotely."
The Best Places to Work program recognizes companies based on the policies provided by human resources and on confidential employee surveys. The surveys cover topics such as benefits and work environment and this year, included a few extra questions related to the COVID-19 disruptions.
We were happy to see the positive impact of our internal, multi-department COVID Response Team: 98% of our team agreed that our response to the pandemic demonstrated concern and care for the well-being of the team, and similar percentages said they were easily able to pivot to working from home and that the company understood the need for additional flexibility during these unusual times.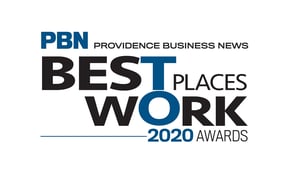 In the past, The Town Dock has celebrated its Best Place to Work award with a gathering that included lunch (calamari, of course!) and yard games. That type of gathering won't be possible this year, but the human resources team is hard at work finding alternative celebrations that fit the occasion.
The final ranking for The Town Dock as a Best Place to Work within the Mid-Size Employer category will be announced at a virtual ceremony Wednesday, September 30 and profiled in a special section in the print edition of PBN the following week.
For a full list of the 2020 PBN Best Places to Work honorees, click here.