Calamari Comeback? Calamari Never Left.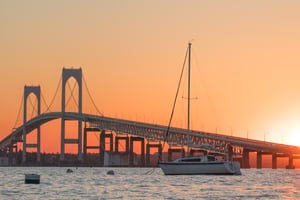 In the middle of last week, it was impossible to be on social media and not suddenly see calamari and calamari comeback trending. The jump was thanks to the virtual roll call at the Democratic National Convention, where the party leaders in each state staged a short video with backgrounds and props representative of their state.
It was only natural, then, for the Ocean State to be represented on a beach, with party leader Joseph McNamara declaring Rhode Island "The Calamari Comeback State" alongside masked chef John Bordieri, who was holding a large plate of Rhode Island Style Calamari.
It was quintessential Rhode Island: the weird sort of inside joke (like giving directions based on things that no longer exist or needing to pack a lunch for a drive longer than 30 minutes) that Rhode Islanders nodded along to while the rest of the country just... wasn't sure what to make of it.
We'll tell you, straight from the docks here in Point Judith: it's true that calamari is the official appetizer of the State of Rhode Island. In fact, then-Governor Lincoln Chafee signed the bill into law right here at The Town Dock in 2014.
The reason? There are two.
The first is that the calamari industry is an important economic driver for the State. Rhode Island itself is the "King of Squid" and lands more squid than any other seafood. Here at The Town Dock, we are not only one of the largest foodservice calamari suppliers in the country, but we're a player in the international marketplace, and have a growing retail presence. Getting the calamari from the waters of the north Atlantic Ocean to your plate supports a variety of jobs and economic opportunities here in southern Rhode Island.
The second reason? The Doryteuthis pealeii (also called Loligo pealeii or Longfin Inshore Squid) caught off the shores of Rhode Island is truly the best calamari in the world. Sold as our Rhode Island Calamari® line, this squid has a sweet, nutty flavor and tender texture that many chefs ask for by name.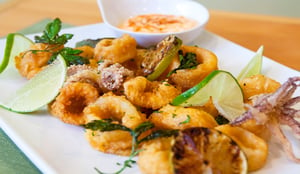 But, let's talk about the Calamari "Comeback." While technically correct - the New York Times likes to point out that "Fried calamari peaked in 1996" - that's only part of the story. For one, the rise of calamari was so unique and forceful, that they continue to measure food trends in a Standard Calamari Unit.
And unlike many other food trends over the years, the demand for calamari has never gone away. We're a 40 year old company focused on calamari, and we've been growing for decades. Fried calamari continues to be one of America's favorite appetizers, appearing on a huge array of menus from beachside seafood shacks to high-end Italian restaurants, to brewpub concepts, trendy bistros, and even as a protein option in fast-casual salad and wrap shops.
Plus, more than ever, chefs are seeing calamari as a versatile seafood that complements a wide variety of cuisines and can be incorporated into all kinds of of interesting recipes.
So do we think that calamari is going to enjoy a few moments of extra fame? Absolutely.
But comeback? Nah.
If you ask us, calamari never left.