The Town Dock Marks 40 Years
Narragansett, RI, March 17, 2020 – The Town Dock is observing its 40th Anniversary as a family-owned, vertically integrated seafood company.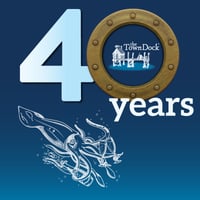 Founded on St. Patrick's Day in 1980 by Noah Clark, The Town Dock is based in the historic Port of Galilee, on Point Judith, in Narragansett, Rhode Island. It supplies a variety of fresh, local fish, and has seen its greatest success from building a global presence in wild-caught calamari.
"When you start a company, start anything, you don't know how it will go," said Noah Clark, who now serves as Chairman. "Seeing it here 40 years later is really something."
"It's important to reflect on what we've done," said Ryan Clark, The Town Dock's President & CEO, and Noah's son. "Forty years is a long time, and it's impressive. I'm grateful we have the history and stability to navigate situations like we are seeing now with the coronavirus. And I'm grateful that we have so much more room to grow, and that we have the talented, dedicated teams to keep us moving forward."
The Town Dock partners with a dedicated fleet, local fisherman, and global suppliers to provide a variety of the best domestic and imported calamari to foodservice operators, distributors, and retail establishments.
In the past few years, The Town Dock has seen great success with its new Premium Domestic Calamari line, an innovative product leveraging a historically underutilized squid species. Additionally, it has championed two species of North Atlantic squid being certified as sustainable by the Marine Stewardship Council.
The Town Dock has postponed its planned celebrations to later in the year due to the ongoing concerns with coronavirus. It has implemented a plan to support the health and safety of its employees and continues to provide the quality products its customers have come to expect.
Learn more about The Town Dock, including its history, commitment to high standards, and variety of foodservice calamari products.