The Town Dock Employees Find Great Inspiration For A Great Cause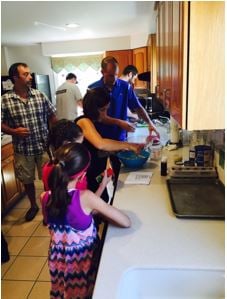 On Friday July, 31 a group of eight employees from The Town Dock volunteered their time at the Ronald McDonald House in Providence, Rhode Island, cooking dinner for the 30 people staying there. The Town Dock employees prepared a hearty meal of ziti with meatballs, calamari salad, garden salad, garlic bread, and plenty of desserts. Some of The Town Dock employees' kids came to help, too, and they had fun showcasing their culinary skills as they helped prepare dinner.
One of The Town Dock employees has volunteered at the Ronald McDonald House prior, and it's something that means a lot to him. He took it upon himself to sign up The Town Dock to volunteer together. Everyone was equally inspired and delighted to donate their time for such a great cause. The Town Dock plans to continue volunteering in their community.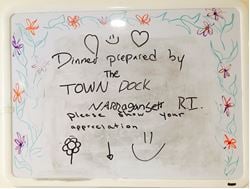 A "home-away-from-home" to keep parents and their children together while enduring medical treatments, Ronald McDonald House Charities help support sick or injured children and their families, recognizing children heal when surrounded by loved ones. At a Ronald McDonald House, families can stay with their children for little or no cost while enjoying private bedrooms, playrooms for kids, and home-cooked meals. Ronald McDonald House Charities strives to lessen the emotional and financial burdens for families dealing with hardships.
To learn more about the Ronald McDonald House Charities visit www.rmhc.org or click here to donate.